Eat good food
Grow your own
When you grow your own fruit and vegetables you will not only save money, but you can control what goes in your food (think organic), and eat straight from the garden while your produce is still full of nutrients. Kids love growing food too; it's a valuable life skill to teach them and a fantastic way for them to begin to learn about the food chain.
Buy local
Local, seasonal food is the freshest produce you can buy, because it doesn't have to travel far from the ground to your plate. Additionally, when we spend our money where we live, we're investing in our region - it helps our farmers and local businesses thrive.
Buy seasonal
When we buy fruit or vegetables that are out of season, it usually means they have been kept in cold storage or "force grown" in a hothouse. Food bought and eaten in season is not only cheaper, but may be more nutritious.
Buy direct
Stop at roadside stalls, explore farm-gate sales, or do your shopping at a farmers' market. Otago Farmers Market is open every Saturday morning and, as well as being a great place to stock up on fresh produce, it's a fabulous spot to meet the producers and learn more about local food.
Forage
Free food – the only catch is that you have to be willing to learn what is out there that is edible, where to safely collect it, and how to use it. The best part of all is that by being outdoors you get fresh air and exercise. Children love foraging; take them along and enjoy some quality family time.
Grow your own
Vegetable gardens
There's a vast array of online information about vegetable growing; just remember that we tend to have cooler temperatures down here than many of the areas the information will have been written for, so you'll need to take that into account. Where you plant is very important too, as different plants like different amounts of sun, water and shelter.
Some easy crops to start with are potatoes, beans, peas, courgettes, and leafy greens (e.g. spinach and lettuce). You can grow in pots to start with if you're not yet sure you want to commit to a permanent garden - herbs do well in pots and are a brilliant way to add some zing to your meals.
Staff at garden stores will be helpful, so ask if you're not sure where to start. Also, check out the Ōtepoti Edible Garden Resource and Ōtepoti Vegetable Growing Calendar for more Dunedin-specific information on how to start your edible garden.
Some useful websites are:
The team at the Dunedin Public Libraries have developed a handy booklet called 'Green Food Ideas', that shows what gardening and food-related books are available, and makes it easy to find them. Pop in and get a hard copy from the city library.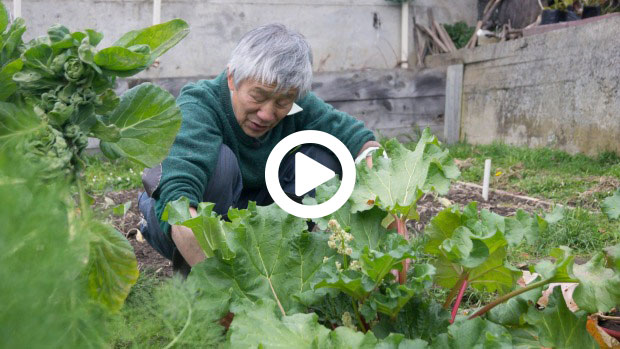 The Dunedin Vegetable Growers Club
The Dunedin Vegetable Growers Club was founded in September 2007 by Barrie Mayfield and a small group of enthusiasts to be "a friendly garden club dedicated to the encouragement of home vegetable growing". Today that club has over 100 members, many of whom meet at the St Kilda Bowling Club on the 2nd Monday of the month from August to May.
A guest speaker presents at each meeting and there are also monthly garden visits to share and discuss varying methods, microclimates and ideas. Beginner gardeners are very welcome; contact Carol Henderson: hendersonic@xtra.co.nz.
Fruit trees
Fruit trees are fun to grow. You need to have an open, sunny spot, and some good advice regarding the best way to look after them. You can even grow some varieties in pots, which makes it easy to place them in a great position.
We can't grow everything here in Dunedin that our North Island whānau can, so ask for advice at your local garden store. Jason Ross, from local business Habitate, has a lot of experience growing fruit trees in our climate, and has extensive knowledge about what can and can't grow here, what diseases to look out for, and how to prune, train and feed your tree.
This website may be useful too: www.tuigarden.co.nz
Chickens
You are allowed to keep chickens in residential areas, but there are a few things you need to think about to ensure that they are happy and healthy. You'll need to have sufficient space, time and resources to care for your chickens.
Chickens that are able to roam and forage in the fresh air and sunshine tend to thrive - some people think their eggs taste better too! Chickens also need a reasonable level of hands-on care and protection from predators - neighbourhood dogs can find chickens very tempting.
Here are some useful guidelines:
www.dunedin.govt.nz/services/other-animals
www.spcaauckland.org.nz/animal-care/poultry/
Bees
Imagine a world without strawberries, kiwifruit, apples, nuts, coffee, or chocolate! And that's only the beginning. One mouthful in three and nearly three quarters of the diversity of our daily food is directly attributed to bee pollination. Without bees to spread seeds, many plants - including food crops - would die off.
Honey bees all around the world, including here in New Zealand, are in decline because of Varroa mite infestations and other threats such as pesticide misuse. Bees are now dependent on humans to protect them. The good news is that there are easy ways to be bee-friendly at home, such as:
Avoiding spraying when plants are in flower or bees are present - spray early morning or at sunset.
Providing fresh drinking water for bees.
Planting good nectar and pollen sources in your garden.
You can find out more here:
www.foodsafety.govt.nz/industry/sectors/honey-bee
Selling
If you sell your own fruit and vegetables directly to the consumer (for example, at roadside stalls or farmers' markets), you only need to ensure you're selling safe food. You can add value to your produce in your own home kitchen (e.g. by turning berries into jam). You can also sell eggs laid at your farm or home direct to the consumer, as long as you've met a few criteria.
Before selling anything you have grown or farmed, you should read the appropriate guidelines from the Ministry for Primary Industries
Community Gardens
Established gardens
Community gardens give you the opportunity to learn growing skills, meet people in your neighbourhood, and exchange your time and labour for fresh produce. There are more than 20 community gardens up and running in Dunedin; go to the Dunedin low cost food & transport map to find out if there is one near you.
Setting up a community garden
If you're thinking about setting up a community garden in your area, there are a number of things you need to think about. If you would like a copy of our guidelines and application form please email Good.food@dcc.govt.nz.
Community Orchards
We planted the first Good Food Dunedin community orchard at Caversham's Reserve in August 2017. The orchard was planted with 12 heritage trees (apple, pear and plum), which are old varieties of trees especially suited to our local climate. Using heritage trees also makes it easier for them to be grown organically, which these ones will be.
We are hoping to plant more community orchards in 2018. If you would like to talk to somebody about establishing one in your neighbourhood, email Good.food@dcc.govt.nz.
We are also mapping all the fruit trees in public spaces around Dunedin, so that we can care for them and create a city-wide orchard that we can all harvest from. We need your help to map the trees; if there are some in your neighbourhood please let us know (if you can use your phone or Google maps to get GPS coordinates that would be great, otherwise a detailed street location is fine).
Love Food Hate Waste
New Zealanders throw away 122,547 tonnes of food a year, equivalent to 213 jumbo jets of food that has to go somewhere to rot, instead of being eaten. That amount of food is worth around $872 million each year, and could feed the population of Dunedin for two years! To find out more, and to learn simple ways to reduce your household food waste (and save money) visit the website: www.lovefoodhatewaste.co.nz
Eating Out
There are many ways you can support the good food movement while eating out. You can support cafes and restaurants who buy their produce from local farmers and growers whenever they can, or who only use animal products from ethical suppliers - just ask them!
WellSouth and Public Health South have been working together to make it easy for families to find healthy, kid-friendly food when eating out in Dunedin. Download the BURP app for free on android or iPhone. All venues are also breastfeeding-friendly.
Feeding those in need
KiwiHarvest
KiwiHarvest (formerly known as FoodShare) rescues quality perishable food, from supermarkets and bakeries for example, that would otherwise be destined for the landfill. They redirect it to charitable organisations, which then pass it on to people in need. For more on this amazing business, see their website www.foodshare.org.nz/about
All Saints Fruit and Veges
All Saints help people in Dunedin to have access to healthy fruit and vegetables using the collective power of the community. Linking directly with a wholesale produce provider, they distribute pre-sold packs of fresh produce to seven distribution centres across the city. Go here for more information about this initiative: www.facebook.com/dnfruitandvege
Low cost or free food
WellSouth Primary Health Network has produced a Dunedin low cost food & transport maps showing where you can find fruit and vegetable co-ops, community gardens, community orchards, food banks, and healthy eating services, as well as free drinking water in and around the city.
Vegetable Boxes
You can order vegetable boxes from the following places in Dunedin. Some are organic, some are solely locally grown, and some deliver.
Community Pantries
Take what you need, share what you can. Whether a need for food or a need to give, the community pantry movement facilitates neighbours helping neighbours, building community. You will find a community pantry at the following locations:
| Street address | Suburb |
| --- | --- |
| 73 Viscount Street | Waldronville |
| 1020 Brighton Road | Brighton |
| Mainly Music Church, 863 Brighton Road | Ocean View |
| Fairfield School, 10 Sickels Street | Fairfield |
| 24 Edith Street | Fairfield |
| Bathgate Park entrance off Macandrew Rd | St Kilda |
| 336 South Rd (Baptist carpark) | Caversham |
| 41 Hargest Cres | St Clair |
| 73 Riselaw Rd | Calton Hill |
| 12 Russell St | Central City |
| Mosgiel Montessori, Murray St | Mosgiel |
Foodbanks
A foodbank is a service that provides emergency food parcels for people who are in immediate need of food. We have four main foodbanks in Dunedin:
Family Works
Level 1, 407 Moray Place, ph 477 7116
Monday to Friday: 8:30am to 5pm. No appointment required.
Salvation Army
160 Crawford Street, ph 477 9852 ext 0
Monday, Wednesday and Friday: 10am to 3pm. Appointment required.
St Vincent de Paul
452 George Street, ph 4770555
Monday to Friday: 11am to 2pm. No appointment required.
Taieri Christian Care Mosgiel
2 Wickliffe Street
Monday to Friday: 10 to 11.45am. No appointment required.
Our Food Network
Our Food Network is a group of like-minded local people who are passionate about stimulating the production, distribution and consumption of local food, and in that way contribute to the building of a resilient and prosperous community.
The network is passionate about raising awareness through production and access to nutritious locally and ethically produced food, and is working with Sustainable Dunedin City on a four-pronged approach across Dunedin neighbourhoods to:
establish a land-/resource-sharing network to increase production of food in Dunedin;
establish a seed saving network to nurture new growers and increase production of food in Dunedin;
expand the impact of the Community Food Harvest by turning it into a "Neighbourhood Food Harvest";
create and deliver resources to individuals and communities to support the development of their own self-sufficiency in the production, awareness of and access to local food.
For more information about any part of this project, please contact Niki: ourfoodnetwork@gmail.com.
To connect with Our Food Network you can sign up to receive their monthly e-newsletter of local food news and events, or join them on Facebook
Neighbourhood Fruit Harvesting
Our Food Network and Sustainable Dunedin City are working with Dunedin's community food harvesters to create a neighbourhood-focused project - it's all about neighbours connecting with and helping each other through food, including picking fruit from the gardens of those who have too much to eat themselves and redistributing it to those in need.
For more information about Our Food Network see www.facebook.com/OurFoodNetwork/?fref=ts
For more information about the Neighbourhood Food Harvest project contact Niki at ourfoodnetwork@gmail.com
Resources
Sustainable living courses
The Sustainable Living programme is a practical, fun way to learn and use actions to reduce your environmental impact. Covering a number of different topics including food, this course offers you future living skills for a healthier lifestyle and a new approach to consumer choices.
DCC Library resources
The team at the Dunedin Public Libraries have developed a handy booklet called 'Green Food Ideas', that shows what gardening and food-related books are available, and makes it easy to find them. Download it here, or pop in and get a hard copy from the city library.
Goodfood Articles