Almost a character in itself, the city of Ōtepoti Dunedin played a central role in the feature film Uproar.
The movie is a coming-of-age story set in Dunedin during the contentious 1981 Springbok Tour and has an all-star cast of international and local actors including Julian Dennison (Hunt for the Wilderpeople), James Rolleston (Boy), Minnie Driver (Good Will Hunting), and Rhys Darby (Our Flag Means Death).
Beautiful and unique Ōtepoti
Paul Middleditch and Hamish Bennett who directed the film said the production and many of the scenes could only have been done in Dunedin.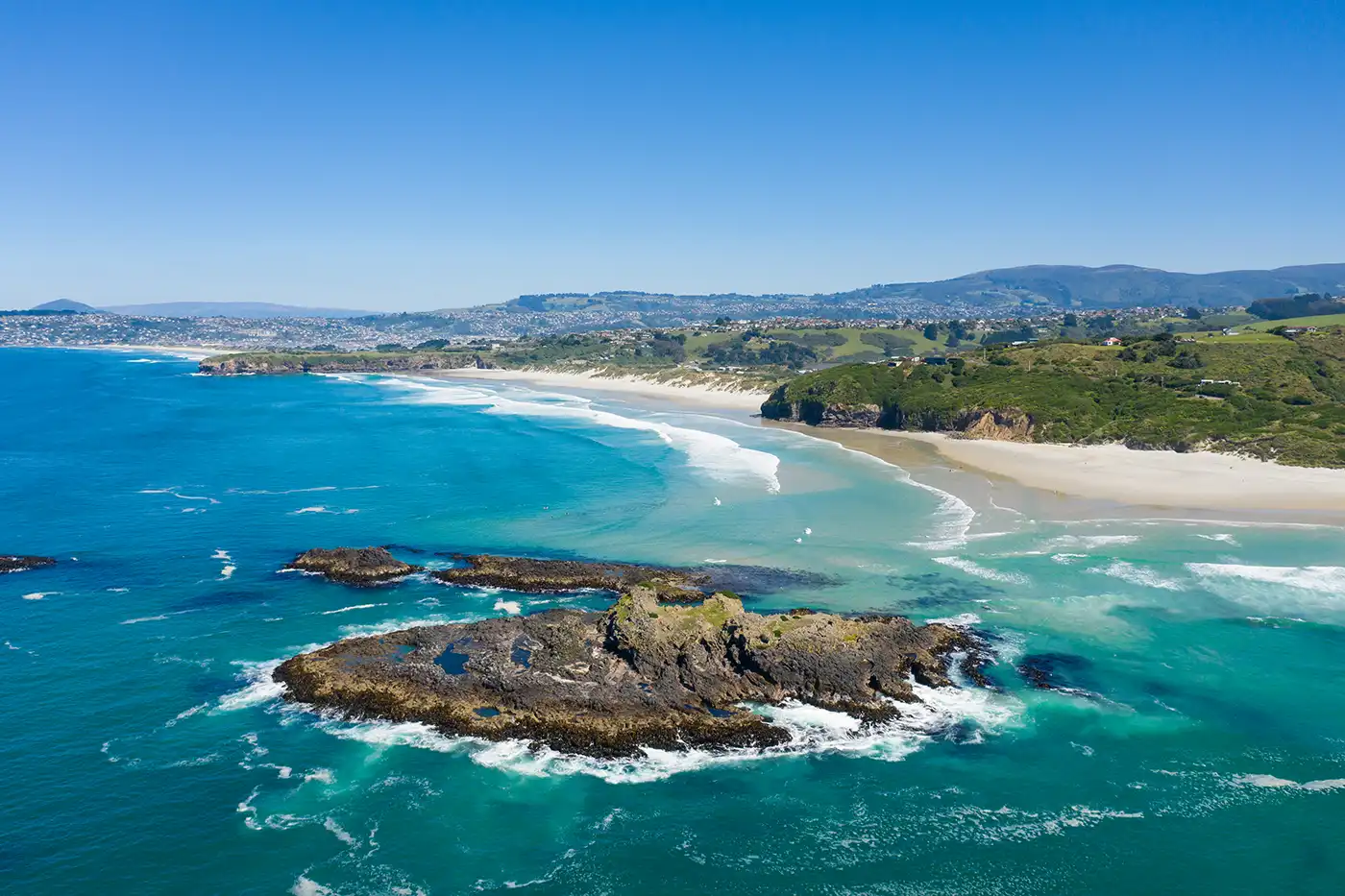 "Its central city buildings, many of them untouched since 1981, its dramatic coastline, its winding streets and steep hills peppered with houses...the landscape in the far south contributed so much to creating the distinct look and personality of our film. We genuinely can't think how we could have pulled off the protest scenes in any other city."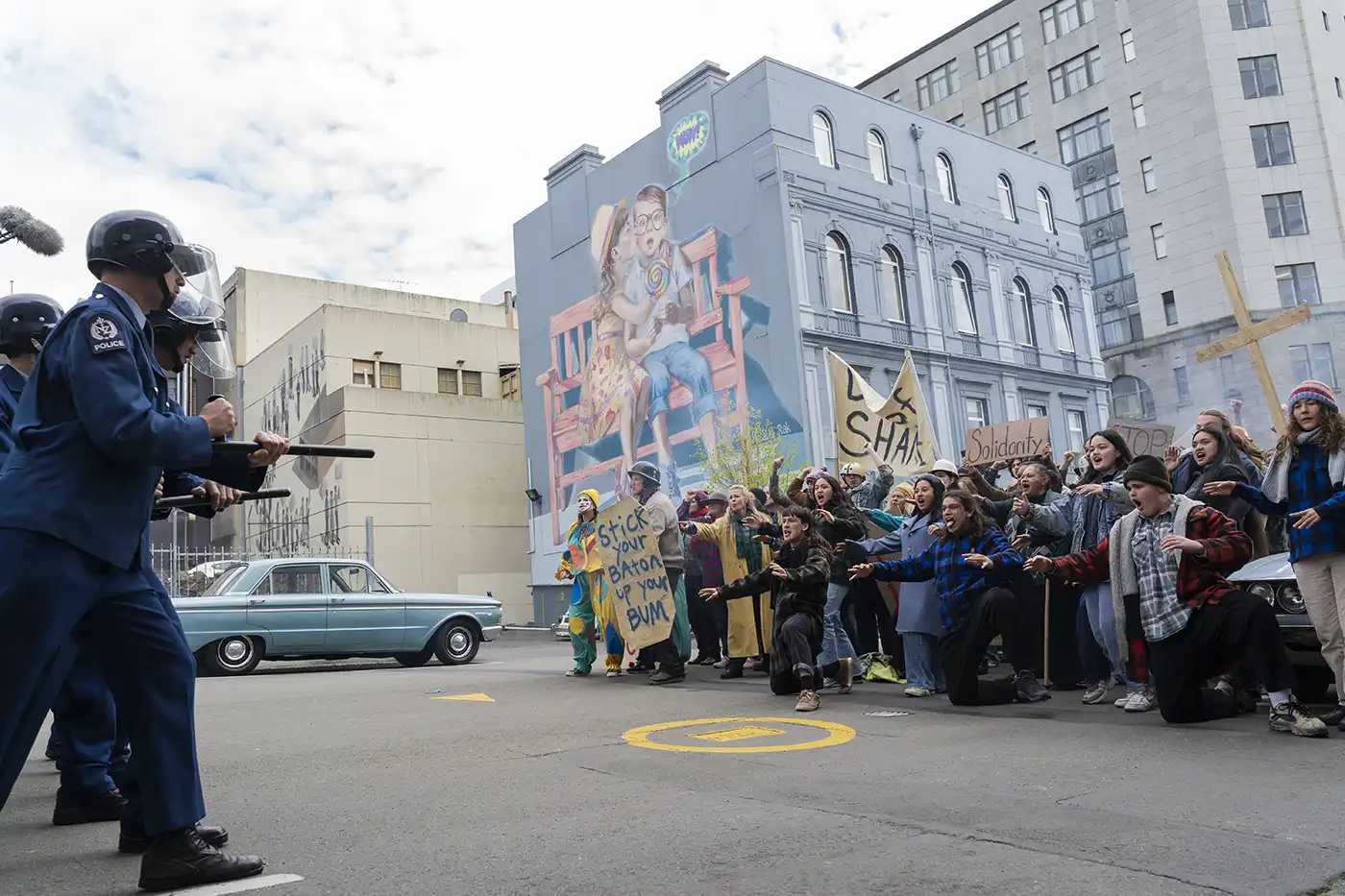 Uproar is set and mostly shot in Dunedin. The production took place over five days in locations such as Smaills Beach lookout, South Dunedin, and Bond Street, where the infamous riot scene occurs.
"

I think it's unique to be able to come to a city like this and be able to have no compromises from a filmmaker's point of view."
– Uproar co-director Paul Middleditch
"It's a beautiful and unique city. There are very few places like this in New Zealand that are untouched…it feels like it wants to maintain its history and tradition.
"I've shot all around the world and for different locations, in particular the architecture of this city is quite unique… I think it would be a brilliant location for anybody who wants to try and reproduce New York in the Southern Hemisphere."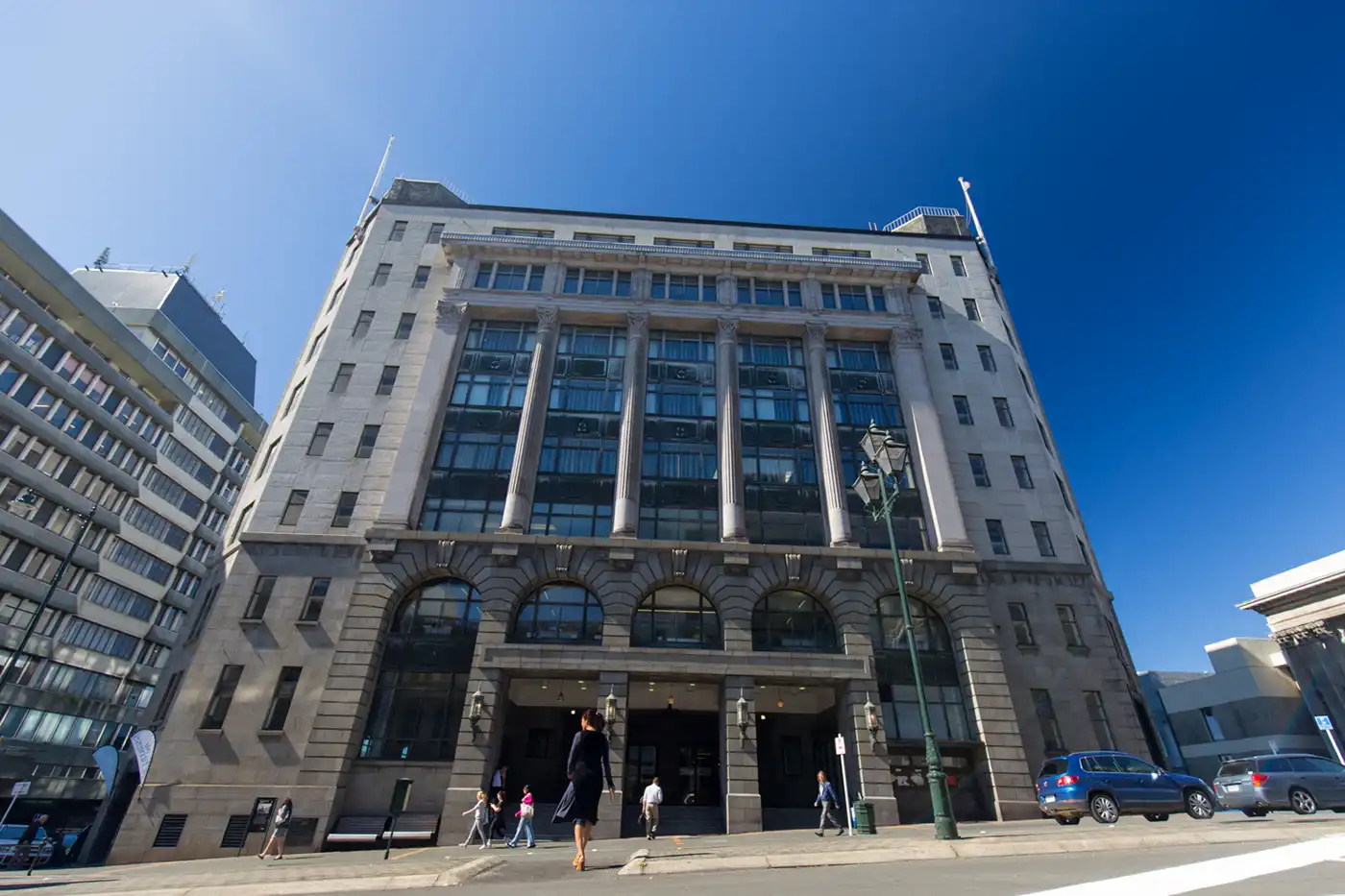 A city that embraces film
The city was incredibly welcoming and embraced the project, Uproar co-director Hamish Bennett said.
"But the greatest contribution to our film came from the people. Starting with the mana whenua…who supported us on so many levels throughout production, the passion, enthusiasm and generosity of all the people involved in the production, in front of and behind the camera, was something we will be forever grateful for. We are very proud of the film that we all made together," the directors said.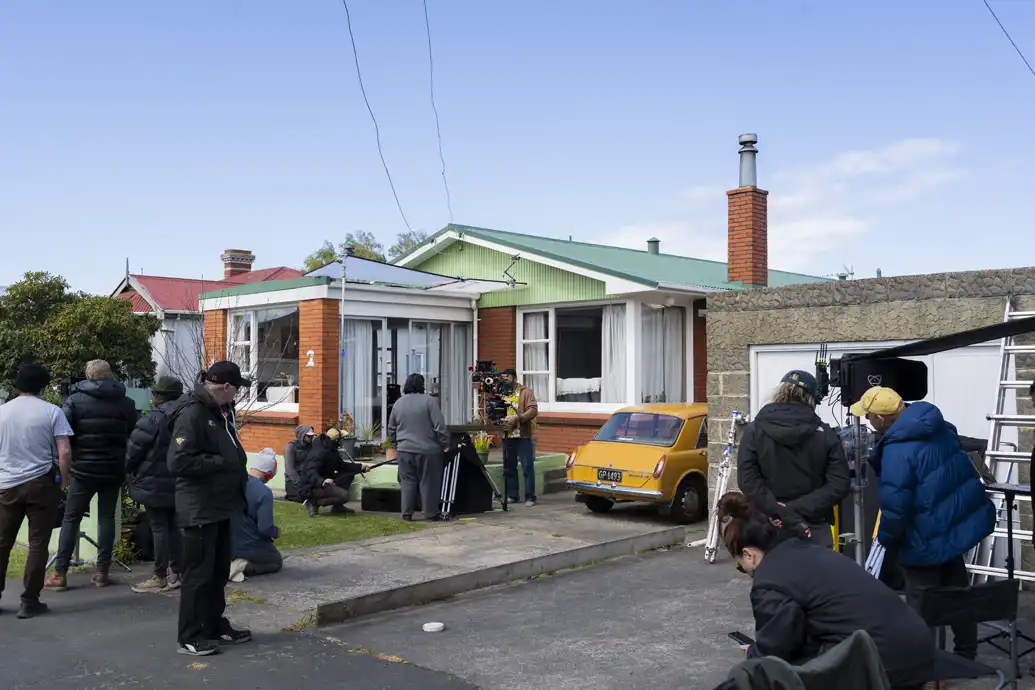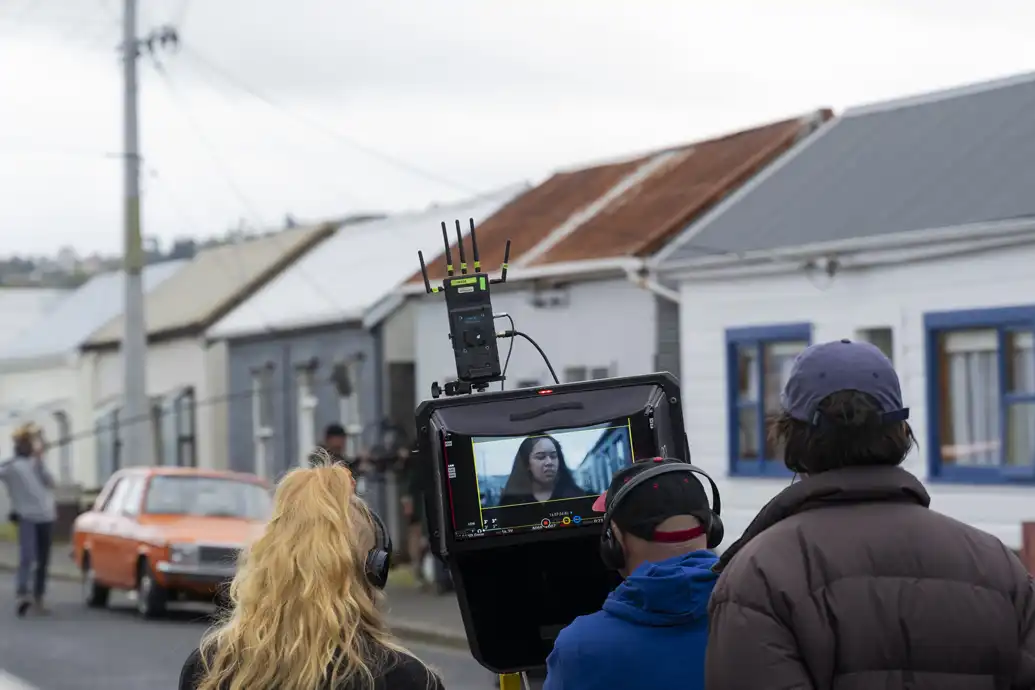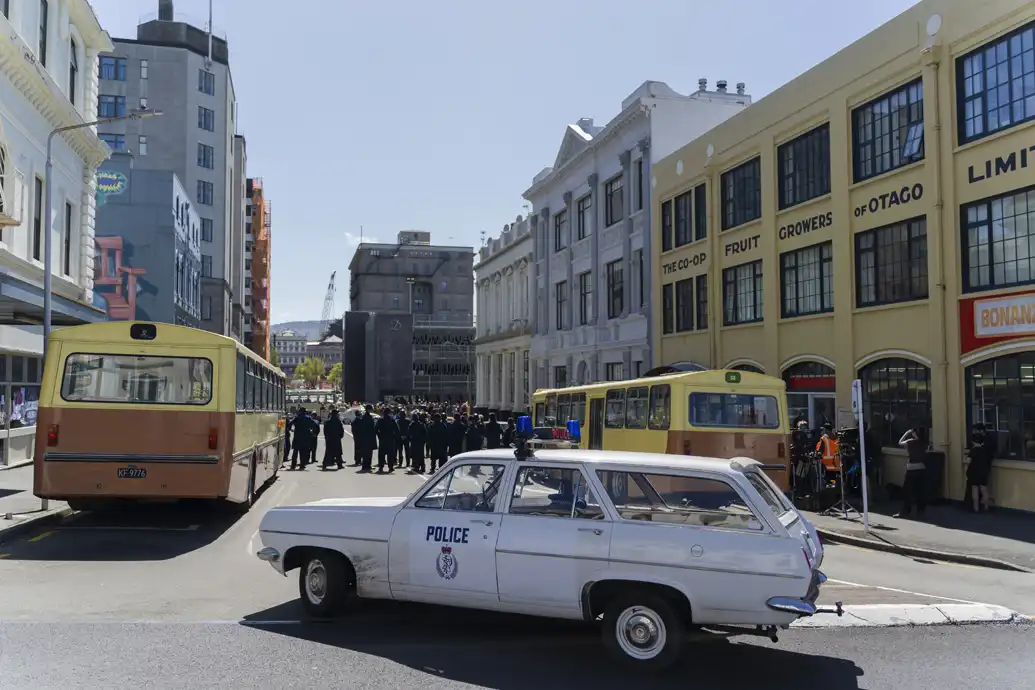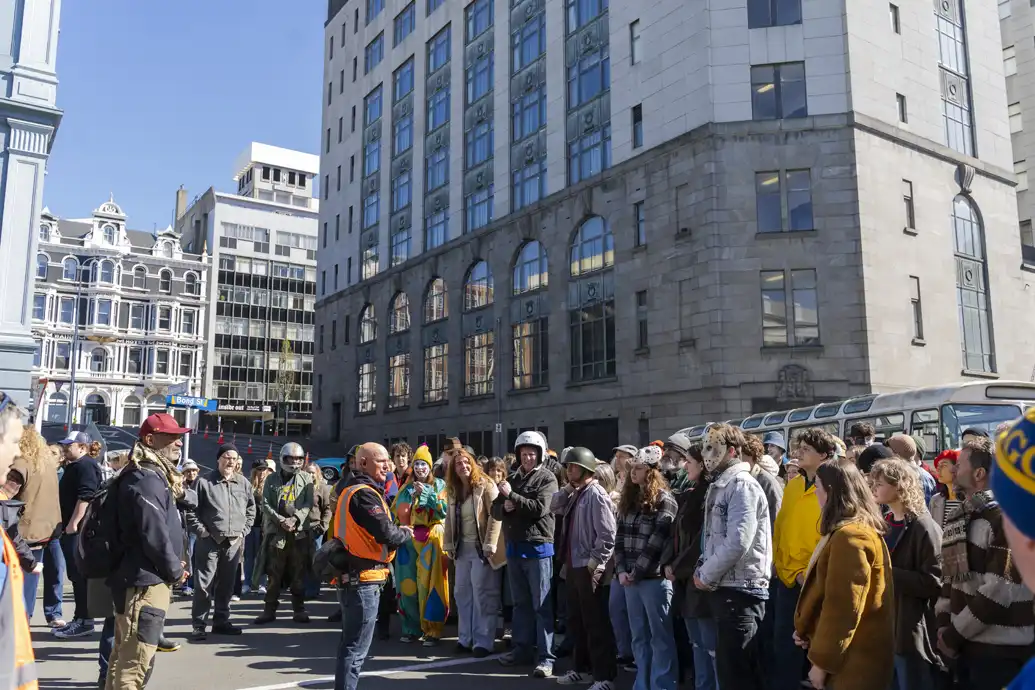 Working with Film Dunedin
Producer Sandra Kailahi said they were grateful for the help of Film Dunedin and the Dunedin City Council.
"Working with the team here on the ground in Dunedin has been amazing, especially blocking off parts of town so we can do our protest. It's no easy feat at all."
Film Dunedin, which had been in engaging with producers since 2019, supported the project in various ways, including through production familiarisation visits and recces, introductions to mana whenua, locations research, as well as assisting with the logistical planning of the shoot to mitigate impacts on the city.
Uproar is a showcase of the Ōtepoti Dunedin film industry which continues to be a key area of focus and growth for the city.
Having productions of this calibre choosing to film here is a testament to Dunedin's diverse locations and accessible local talent and crew.