Supper in the City
If you're out late and looking for a stylish place to eat in the heart of the city, The Bund and Vault 21 in the Octagon, and Madam Woo and Laneway close by are vying for your attention. Each has their own special take on hospitality after dark, offering a range of Asian and European dishes, and superb original Kiwi cuisine using the best local seafood, meat, vegetables, and even insects.
Late in the day Laneway specialise in Spanish pintxos (little things on sticks) and tapas (small portions of Spanish dishes), encouraging their customers to share the love. Pork belly tapas and ham manchego croquettes are the most requested bites here. Around the corner in the Octagon, The Bund has a 1930s Shanghai vibe and a range of Shanghai street food, tapas, and banquets. Portuguese egg tart is the favourite dessert.
Very confident Vault 21has an ever changing menu of newly created dishes showcasing the best local seafood with many Asian flavours, using fine dining techniques and bringing the skills of award winning chefs to the party. A dish of locusts brought lots of curious locals to their door, and late at night they switch from live acoustic music to a night club with the ultimate sound system.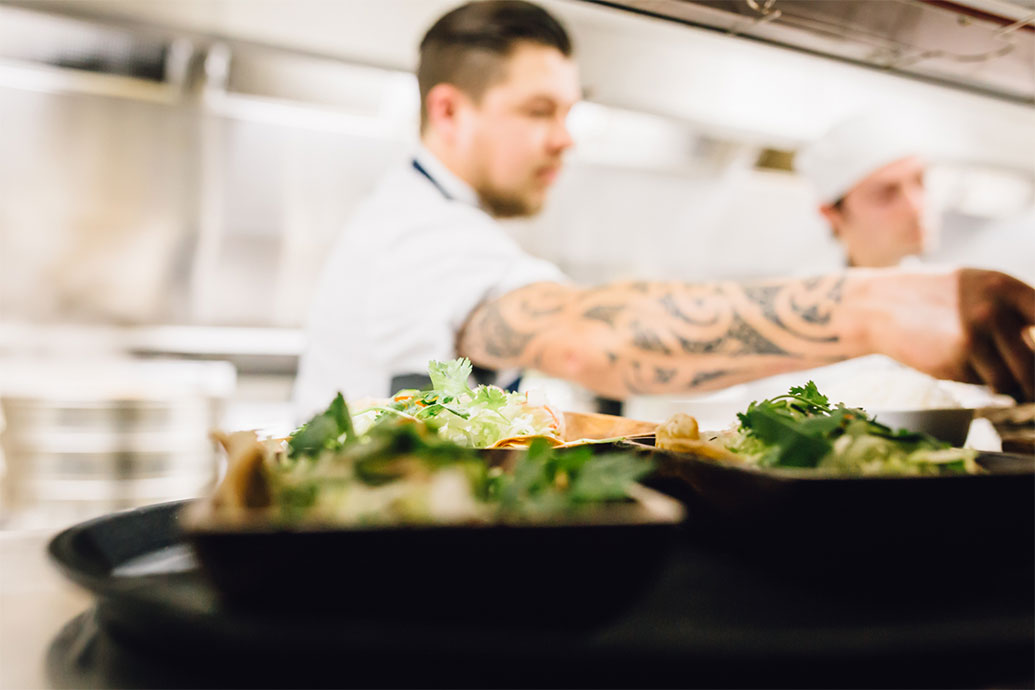 Madam Woo
Open late every night and serving traditional Malaysian and Chinese street fare, Madam Woo is popular with lovers of spicy Asian food.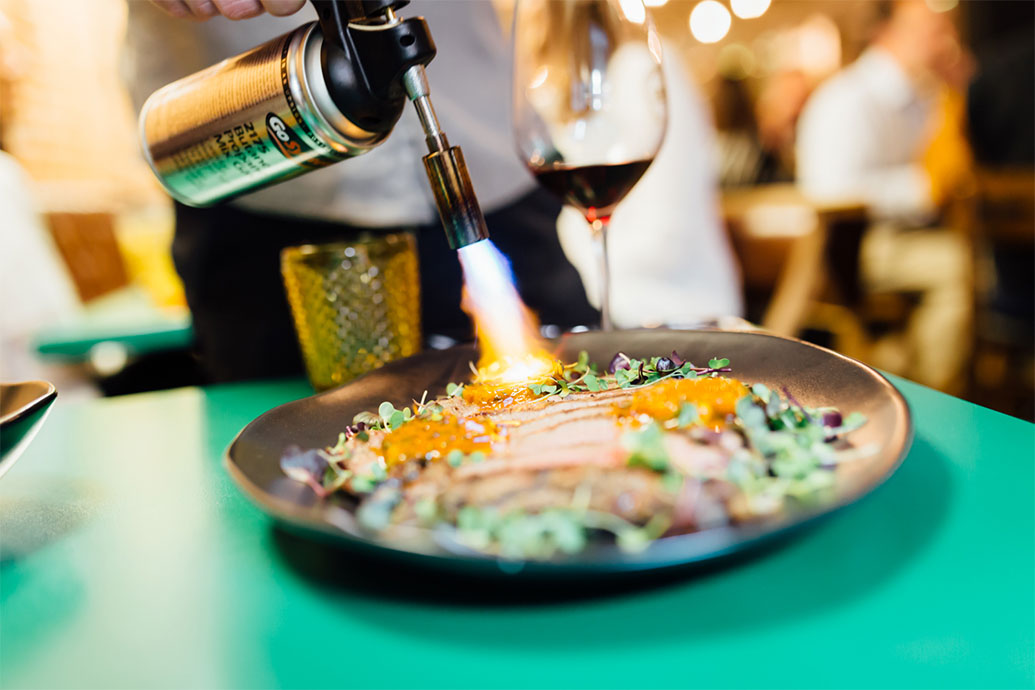 Flaming it
Sous-vide Wakanui Ocean blue beef served with gochujang and coriander butter, flamed at the table.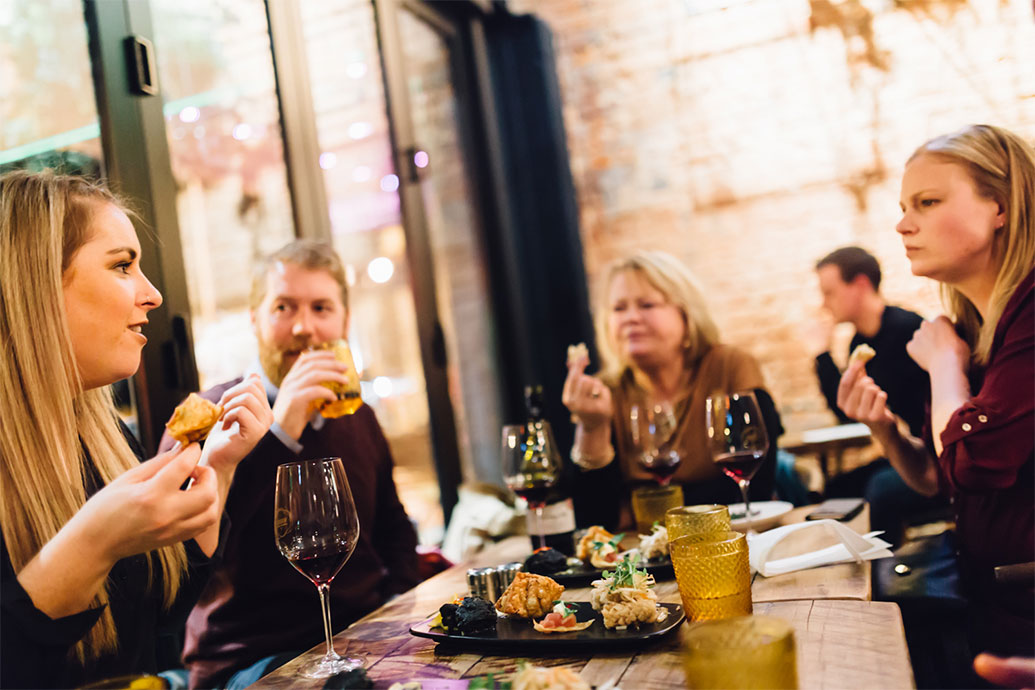 Chilling out
Good company, new flavours and great wine at Vault 21.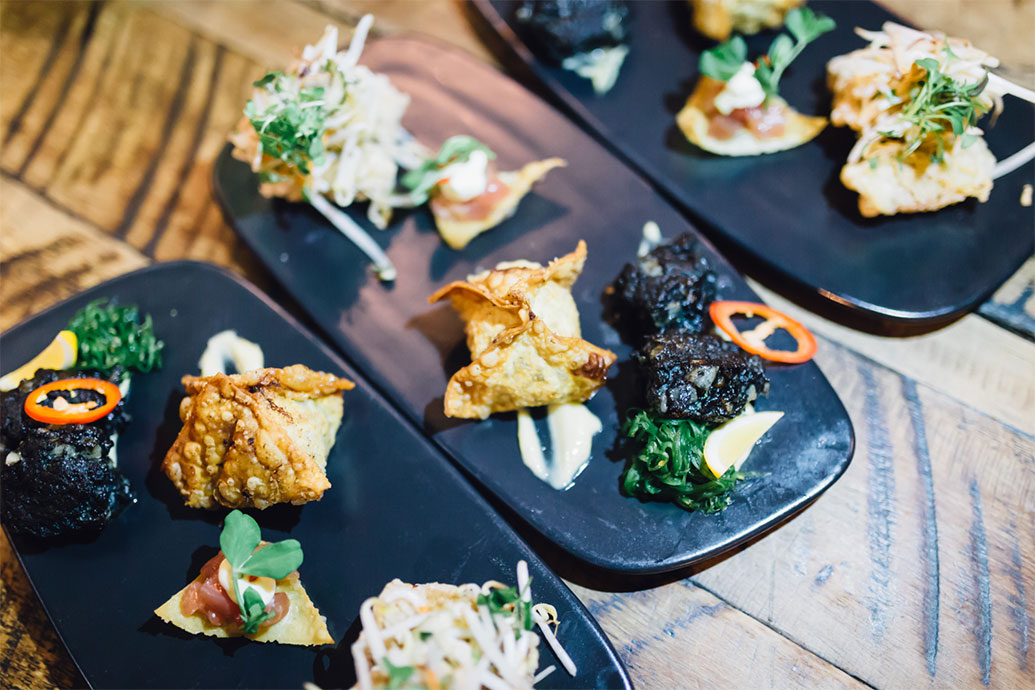 Plates for sharing
Paua with seaweed salad, sticky beef wonton with miso mayo, ponzu yellowfin tuna cracker with smoked cream, and salt and pepper squid.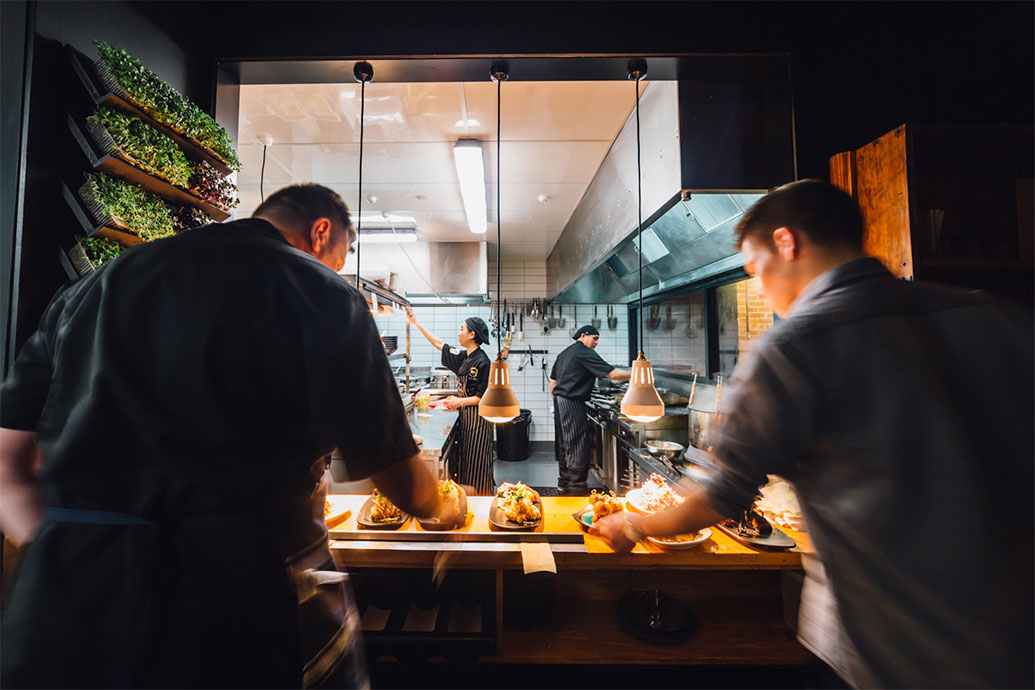 Vault 21 team in action
Precision and presentation under pressure..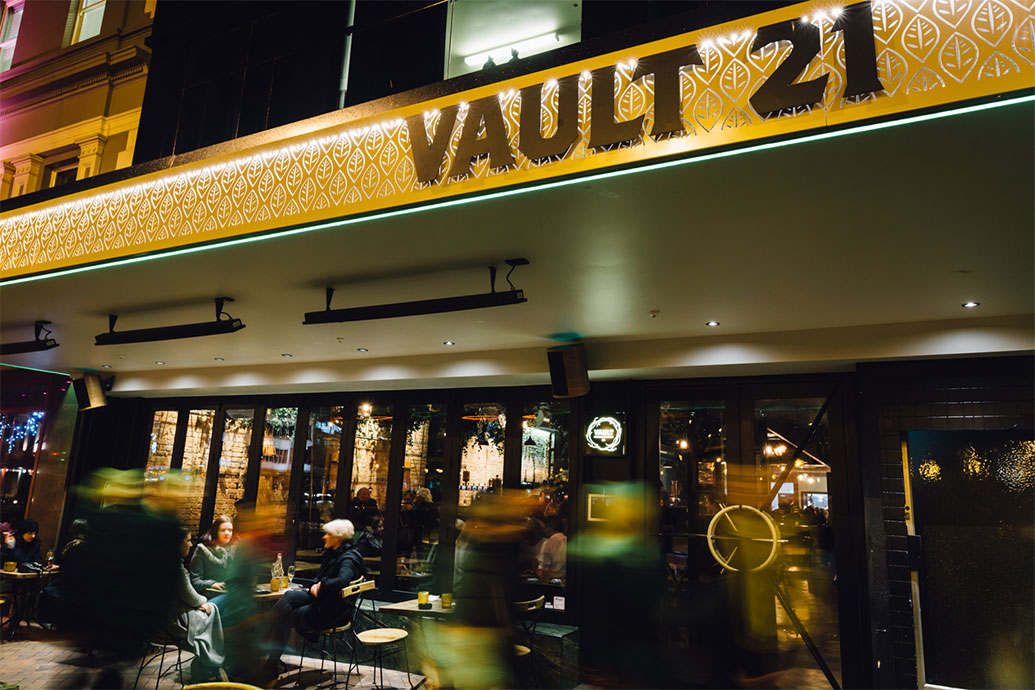 Vault 21
It's big, and no expense has been spared on the beautiful décor, plus their award winning chefs love to create innovative dishes using local seafood and cheaper cuts of meat..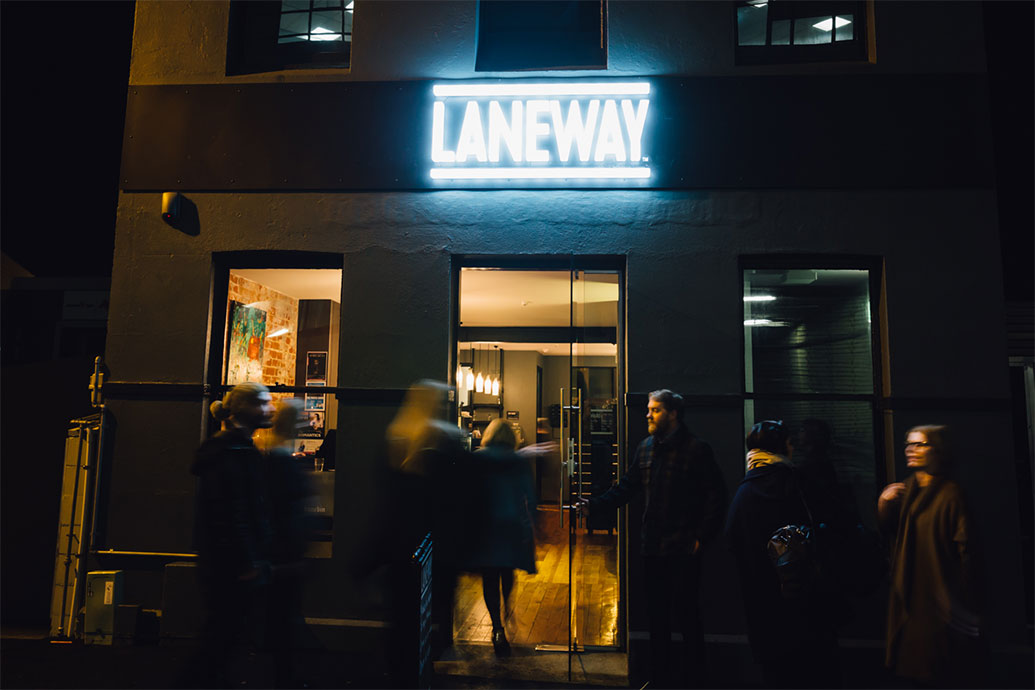 Laneway
Tucked away down Bath St, Laneway's specialty is authentic Spanish tapas, plus Spanish wine, and they're open late on Friday and Saturday.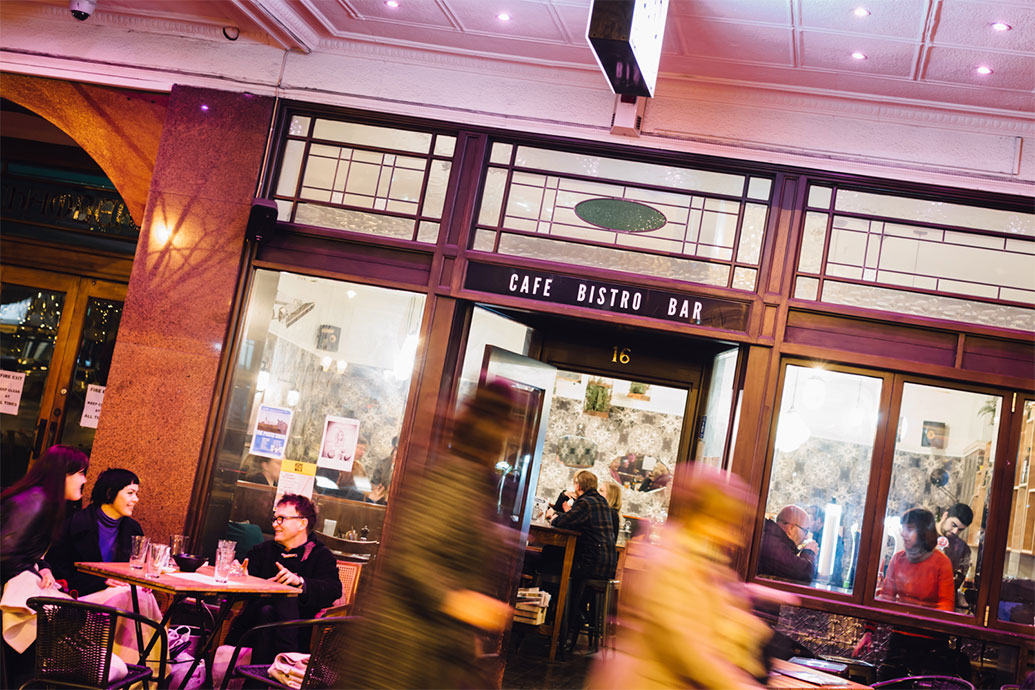 Old Shanghai in Dunedin
East meets West with Continental and Oriental tapas and craft beers at The Bund, open late every night over summer..