When Choie Sew Hoy moved his food importing business from the Victorian goldfields to Dunedin in 1868, he laid the foundations for a food dynasty, and created a link between Dunedin and China which continues to grow. Supplying food to Chinese goldminers who flocked to Central Otago proved to be a goldmine of a different kind, and as he expanded into fireworks, tea, tea sets and pots, crystallised fruit, bird cages and other items attractive to the European residents of Dunedin, his business, reputation and standing in the community grew.
Choie's great grandson Duncan Sew Hoy, and wife Leah continue the family tradition today, serving the finest Cantonese style food from the Golden Harvest Restaurant. They import chefs from China and take a pride in satisfying their loyal Dunedin customers, Chinese tourists, visiting dignitaries, overseas students, and deal-making business people, with authentic Chinese cuisine and yum cha.Between 1868 and the early 21st century, the Sew Hoy family exported dried wood ear fungus to China, manufactured egg noodles, manufactured and exported Chinese sausage, and imported Chinese foodstuffs and utensils and sold them through the historic Sew Hoy store in Stafford St (now under new ownership). During the goldrush, the store's proximity to the wharf and to coaches departing for Central Otago were fundamental to the success of the business. Now the building reminds us of the Sew Hoy family's part in Dunedin's rich food story.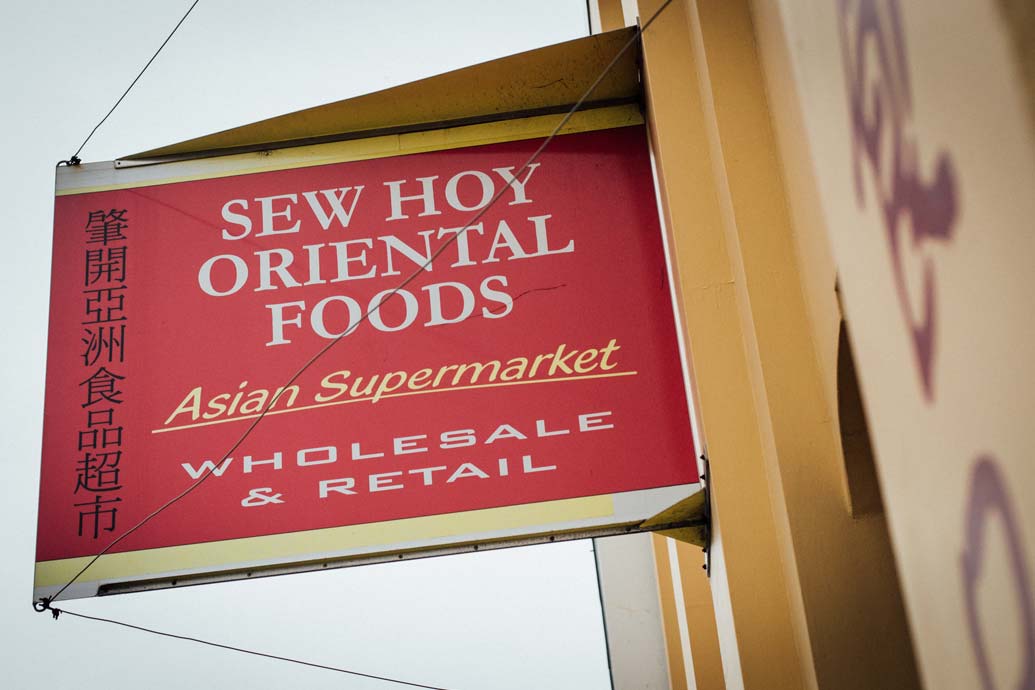 Dunedin's Oldest Asian Supermarket
Sew Hoy Oriental Foods occupies the original building at 29 Stafford St where Choie Sew Hoy set up his food importing business in 1868, supplying food and utensils to Chinese goldminers during the Central Otago goldrush.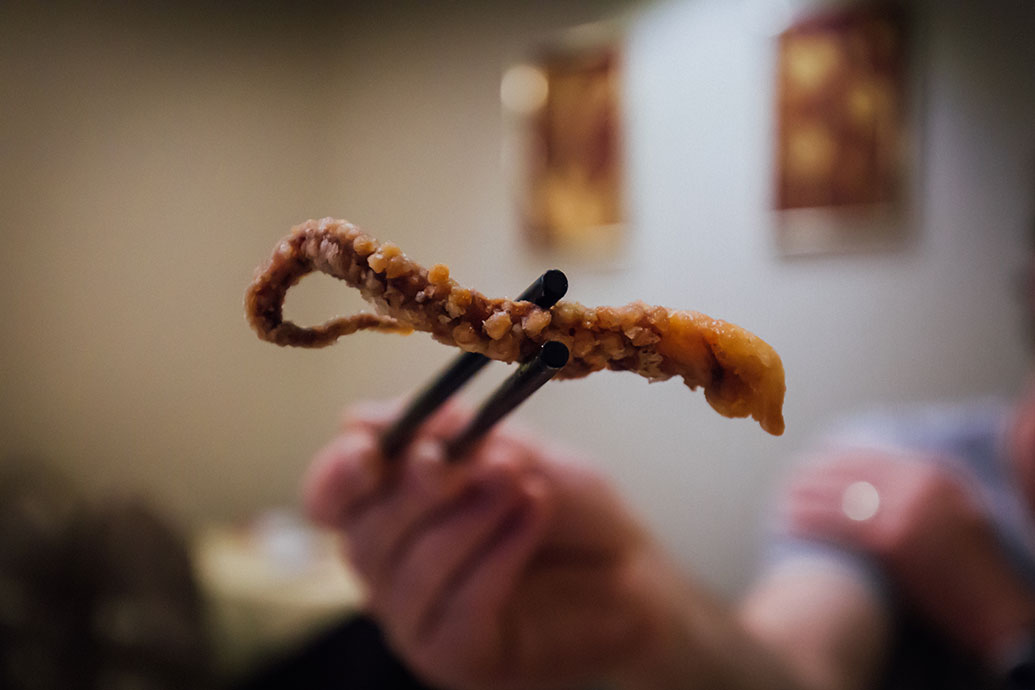 Deep Fried Squid
Hot and spicy deep fried squid, sizzling squid in XO sauce, and deep-fried squid with Szechuan pepper and salt are popular dishes on Golden Harvest's a la carte and banquet menu.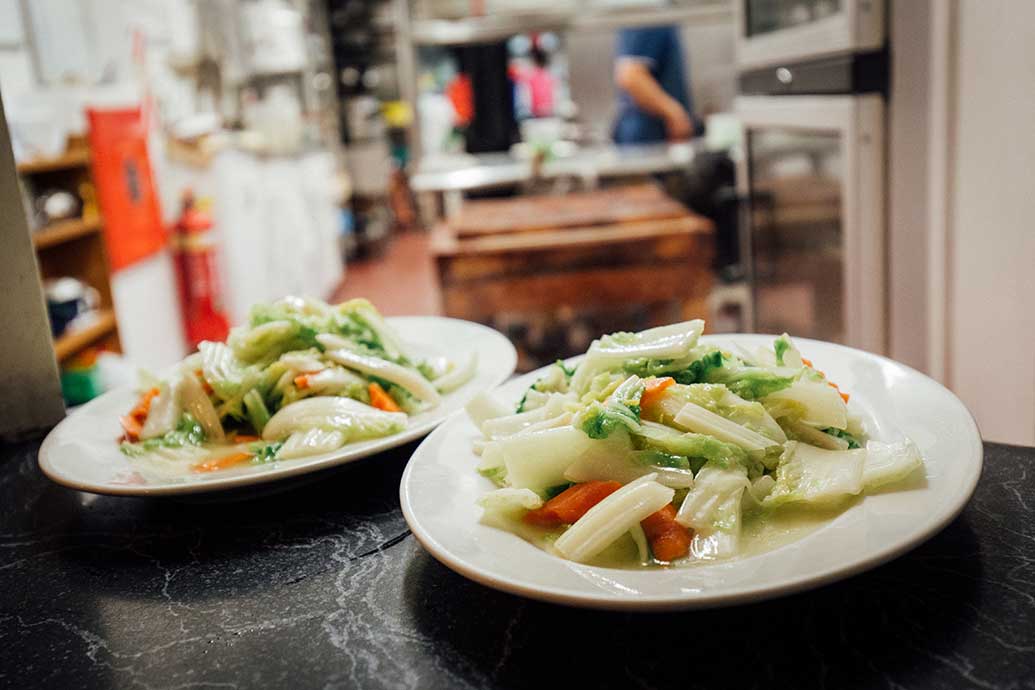 Chinese Vegetables
There are many vegetarian dishes on the menu at the Golden Harvest, made with a range of Chinese vegetables, mushrooms and other fungi, eggs and tofu.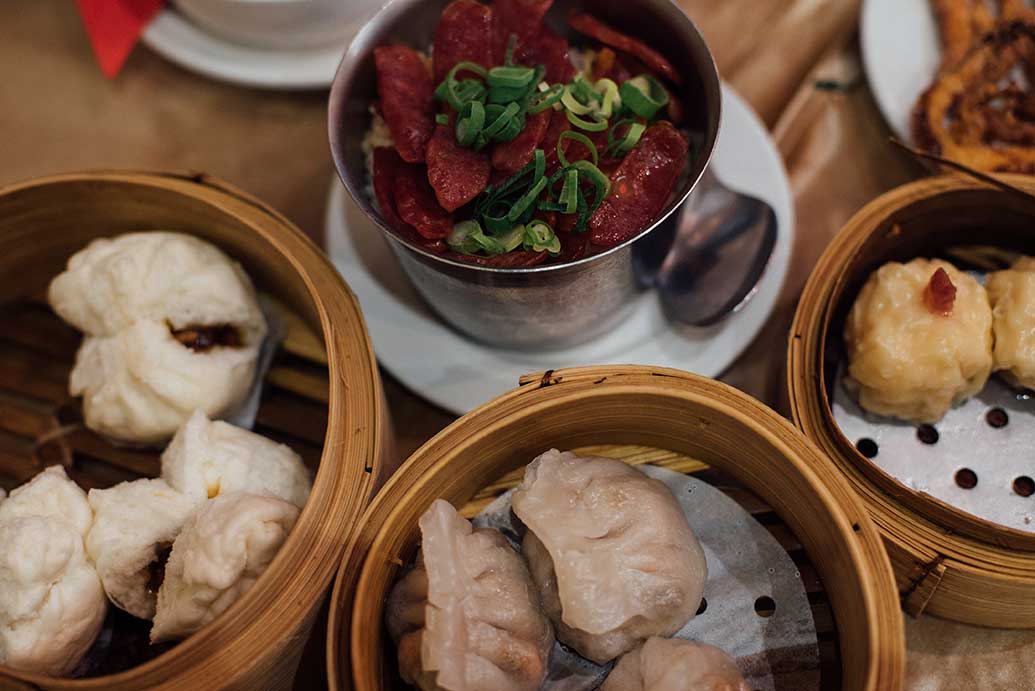 Yum Cha Delights
Barbecue pork buns, Chaozhou dumplings (pork, Chinese sausage and vegetables), treasure prawn dumplings (prawns and Chinese sausage), and Chinese sausage on rice are yum cha favourites at the Golden Harvest.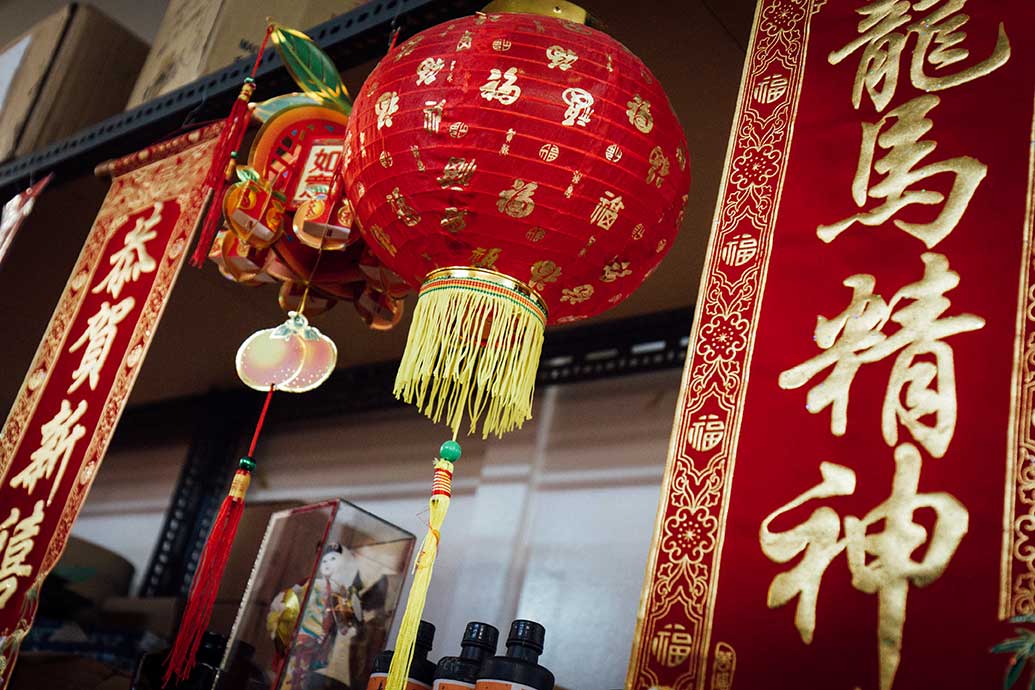 Chinese New Year Decorations
Chinese New Year is always a very special time at the Golden Harvest at 218 George St.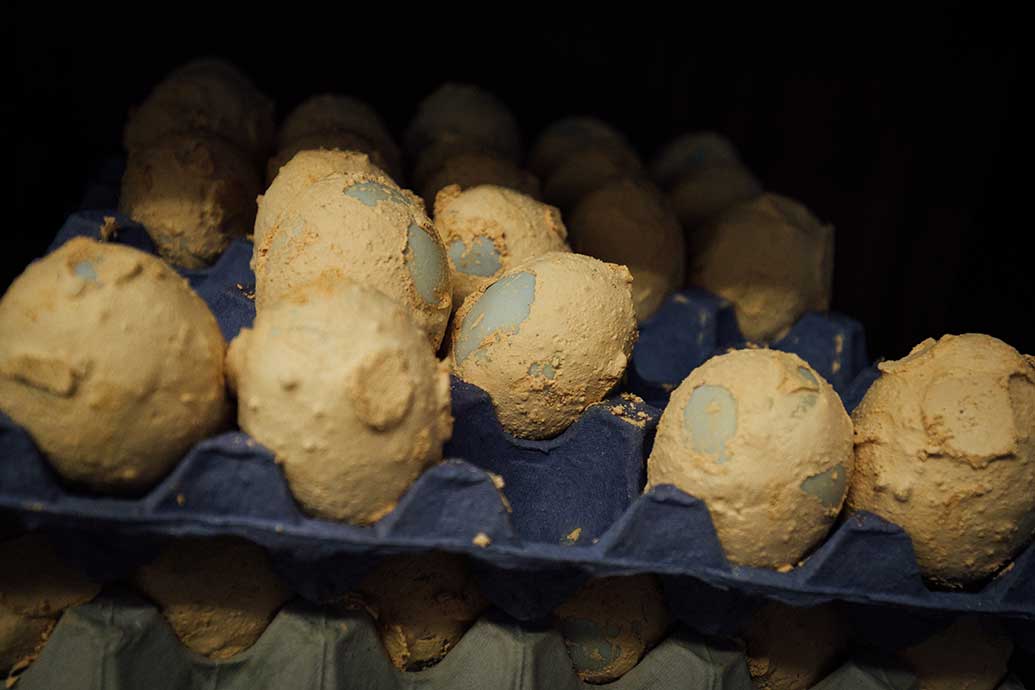 Century Eggs
Chinese preserved eggs are among the traditional foods available at the Golden Harvest.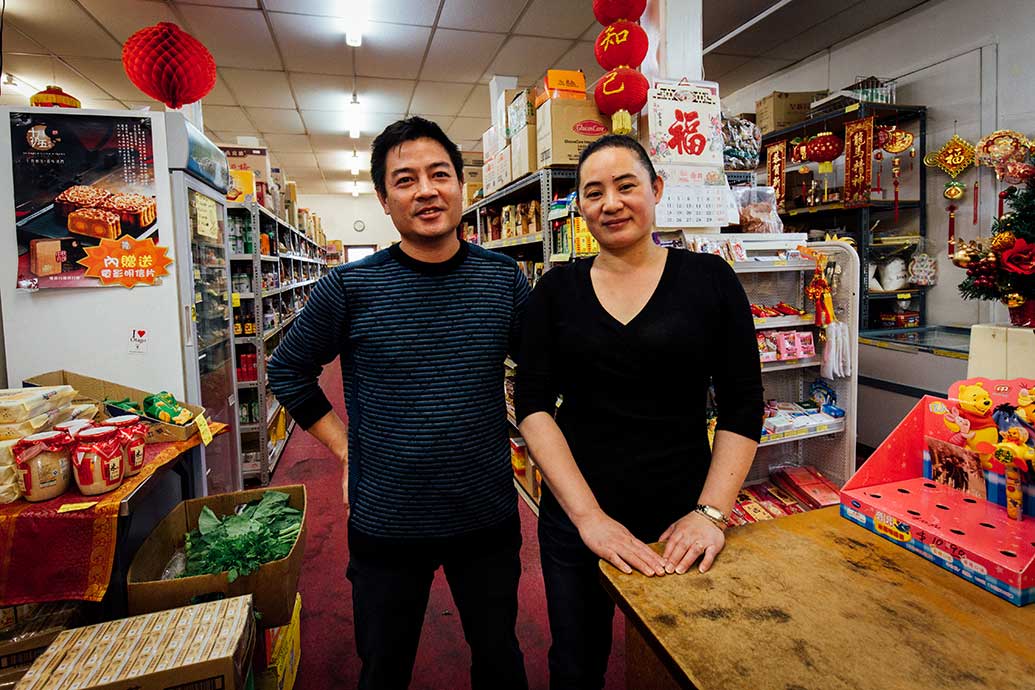 Jack Liu and Amanda Li
Jack and Amanda, the new owners of Sew Hoy Oriental Foods, are proud to continue the tradition of supplying Chinese foodstuffs, plus Malaysian, Taiwanese, Thai and Japanese ingredients, at Sew Hoy Oriental Foods, opening 7 days to meet their customers' needs.
Duncan Sew Hoy
Following in his great grandfather's footsteps, Duncan Sew Hoy combines a canny business sense with a lifelong love affair with Chinese food at Golden Harvest Restaurant, the latest Sew Hoy food business, which he runs with wife Leah.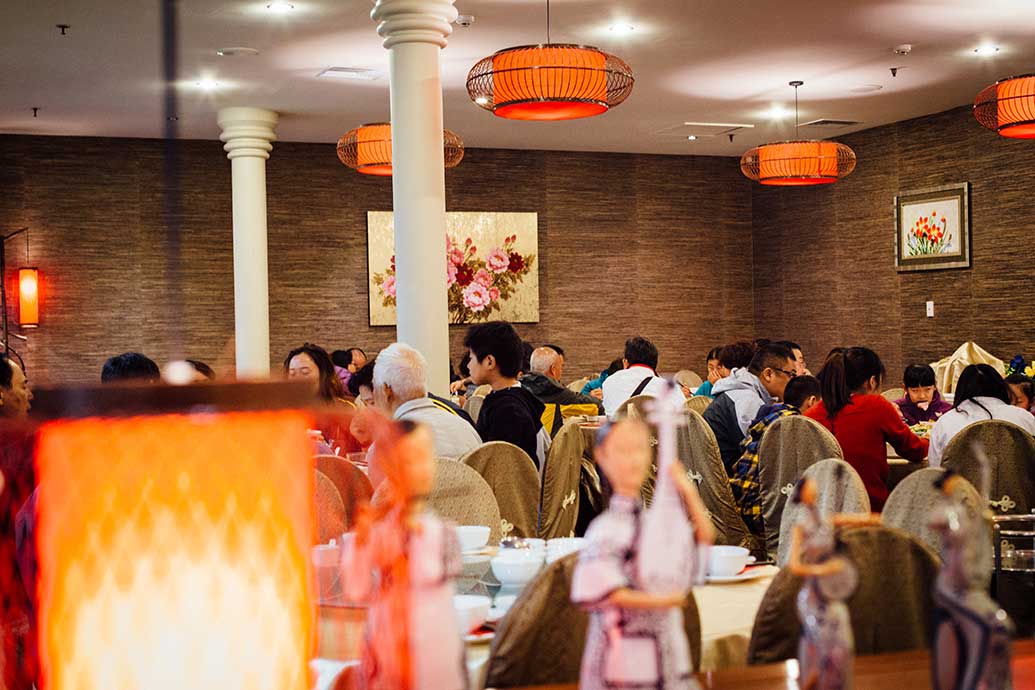 Happy Diners at the Golden Harvest
It's busy every day at the Golden Harvest as locals, international students, tourists, and visiting business people enjoy traditional Cantonese food plus beer, desserts and bubble tea.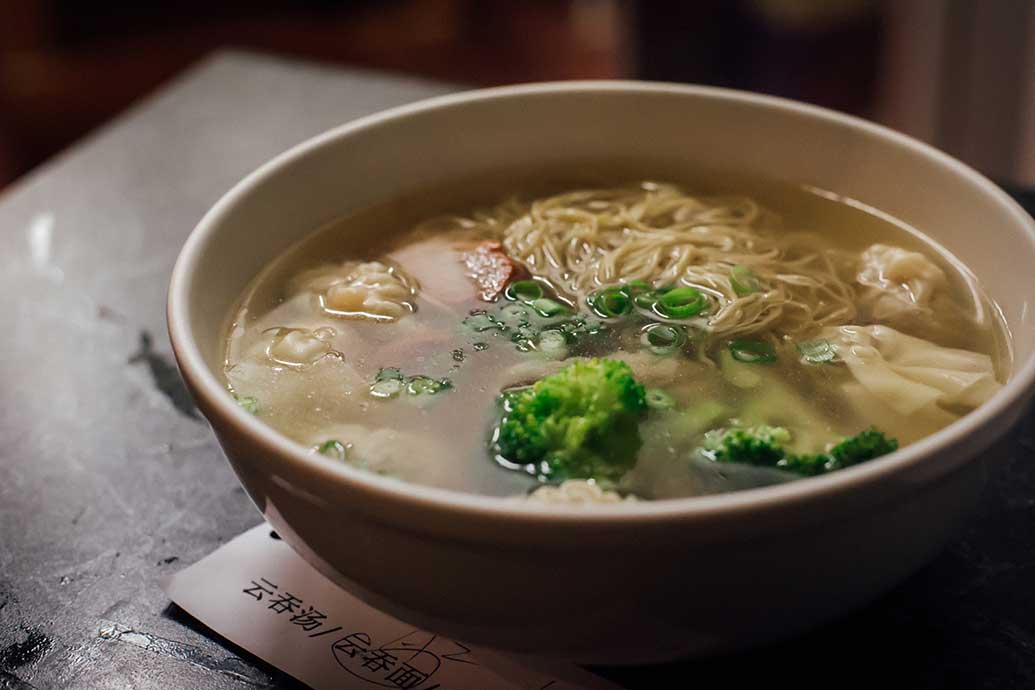 Wonton Noodle Soup
There are ten Chinese soups on the menu at the Golden Harvest, and five can be prepared as vegetarian if required.
Experience authentic, delicious Chinese cuisine at Dunedin's many Chinese restaurants
Kwangchow
18 Stuart Street
Dunedin Central
Asian
43 Moray Place
Dunedin Central
Sichuan88
45 Mailer Street
Mornington
Chopsticks 101
380 George Street
Dunedin
Wong Gok
282 Moray Place
Central Dunedin
Nanking Palace
198 King Edward Street
South Dunedin