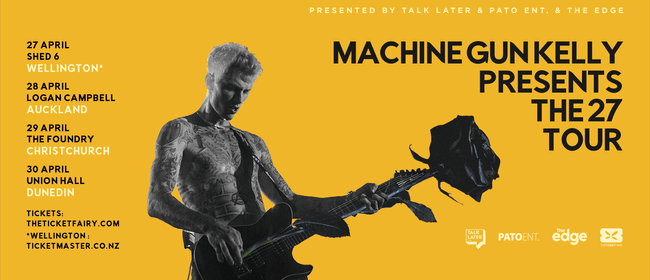 After a stand-out slot at this year's Bay Dreams Festival, US hip-hop artist Machine Gun Kelly is bringing his own headline tour to New Zealand.
Thanks to Talk Later, Pato Entertainment and The Edge, Machine Gun Kelly will play Shed 6 in Wellington on April 27; Logan Campbell in Auckland on April 28, The Foundry in Christchurch on April 29 and Union Hall in Dunedin on April 30.
Tickets to all shows go on sale on Wednesday, February 14 at 9am.
The Cleveland rapper and actor, whose real name is Colson Baker, began making waves in 2010 with his mixtape 'Lace Up', which led to a record deal with the famed Bad Boy Records and his debut LP of the same name.
His second album 'General Admission' followed in 2015, as did his 2016 smash hit with Camila Cabello, 'Bad Things', which peaked at #4 on the Billboard Hot 100 chart. The track laid the foundations for the release of his third full-length album, 'Bloom', featuring James Arthur, Quavo, Hailee Steinfeld and Ty Dolla $ign.
MGK - who hit headlines recently with news that he would be playing Motley Crue drummer Tommy Lee in Netflix's adaptation of the band's biography 'The Dirt' - proved to be one of the most popular sets at Bay Dreams in early January.
"Undoubtedly one of the biggest draw cards of the night had to be MGK; fans chanting his name long before he arrived on stage… Arriving on stage in a red jacket and silver pants the hoards pressed against the barrier lost their collective minds as both MGK and his band of supremely talented musicians hit them with tracks such as 'Golden God', 'At My Best' and 'Kiss The Sky." - Ambient Light