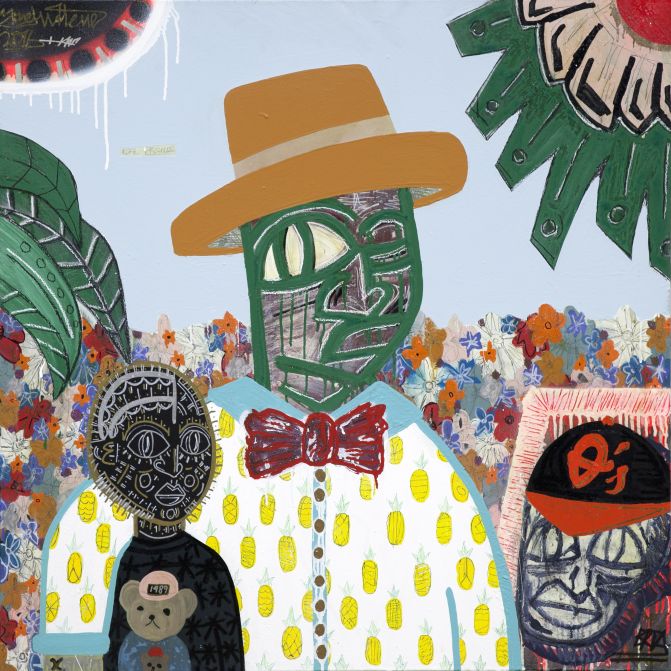 Colourful, strange and totally captivating, Yonel Watene's seemingly rough-hewn studio paintings are designed to surprise in the refined space of a high-end gallery.
Their exuberance and untamed edge is somehow daring, whether hung individually or clustered noisily together.
Strongly influenced by the work of contemporary painters David Shrigley, Eddie Martinez and Joe Bradley, Watene aims for his work to shock, awe and delight.
"I am interested in work that is playful but challenging, rugged yet beautiful," says Auckland-born Watene, who now lives and work in Dunedin.
"Work that offers a darker insight into the darker edges of what a studio practice can be."
Watene has a long-standing interest in his Māori roots and has focused on modernizing Māori figurative painting, by removing his subjects from their typically historical environments, and placing them in modern contexts and settings, such as urban streets.
Having sold his first works to galleries as a teenager, Watene's work has been described by critics as "bold" and "tribal". Selling paintings for cold ,hard cash at the tender age of 16 , gave Watene the confidence boost he needed to launch a full-time career in the arts.
"I am interested in humanizing my subjects by using personal, non-historical subject matter, such as my friends and family," says Watene, who frequently paints those nearest and dearest to him.
"And in creating an international conversation by referencing modern painters who helped promote indigenous figuration in arts outside the Pacific, such as Picasso and Henry Taylor."
Choosing to forsake historical themes in his work has allowed Watene to explore and capture uniquely modern challenges facing New Zealand's indigenous peoples, including issues of high rent prices, homelessness and inflation.
As the founder and director of the alternative gallery and studio space SAVOIE de LACY's, Watene spends a lot of time mentoring young artists and helping them realise their vision, that otherwise may be hindered by a lack of working space or financial constraints.
The gallery is situated in Ravensbourne on the Otago Harbour, and has a rich history as a former dairy, butchery and second-hand store. Its current iteration is well suited to Dunedin's West Harbour community, which is renowned for providing a fertile working environment for dozens of artists, both established and up and coming.
"I want to inspire young artists and give them opportunities," says Watene."And as an artist I want to advocate for contemporary Māori art being seen throughout the world, and contributing to the international conversation where Maoridom is relevant."