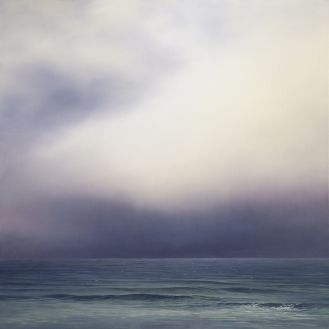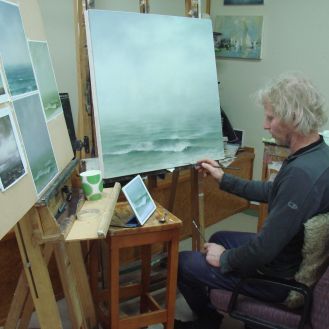 Mood swings, slugs of coffee and long hours in front of a blank canvas; Steev Peyroux's artistic process can seem more pain than pleasure.
He describes it as not dissimilar to Lucien Freud's, the British portrait painter renowned for his studies of anatomy and psychology. The artist who famously made supermodel Kate Moss look ugly.
"I surrender to a sense of timelessness and consider the problems of the canvas before me," says Peyroux, whose studio windows offer him tantalizing glimpses of the ocean.
"Taking up a brush I smear, smudge and blur thick paint in subtle tonal shifts, building on chance effects that present themselves. I'm attempting to represent a particular atmospheric moment, a felt experience, which explores the indescribable relationship between visual perceptions and feelings."
The palette Peyroux employs could be viewed as indicative of his nuanced and shifting mental states. The dark, moody greys and blacks in Formation hint at frustration, and a sense of doom building in charged and volatile atmospheric conditions.
But the buttery golden dawn of Alchemy tells a different story. Suggesting the end of a long, fraught night, and the promise of a fresh day to wash the gloom away. It is the many and varied states of a familiar Dunedin sky and sea which build to present a cohesive and fulsome portrait of man, mind, mood and weather in Peyroux's body of work.
"Back in my studio the bodies of water and vapour that I'm painting exert a primordial pull on the way I feel," says Peyroux, who has a bachelor of arts in dance and fine arts.
"I'm interested in how these feelings change according to what I am looking at. I observe the same section of sea from the window of my home every day. It is in constant flux, changing utterly according to the sometimes epic play of light. These changes evoke subtle or strong responses in me and alter my mental state."
Peyroux, who has trained and worked as a dancer for many years in New Zealand and overseas, doesn't just observe the sea from his studio, he gets inside it, under it and around it.
"Surfing is integral to the way I experience the subject I represent in my work," he says."Surfing also acts as a mental cleansing, helping to maintain the quality of my consciousness in much the same way that meditation or yoga does, thus having a moderating effect in the studio on the mood swings that seem to be an unavoidable element in my process."