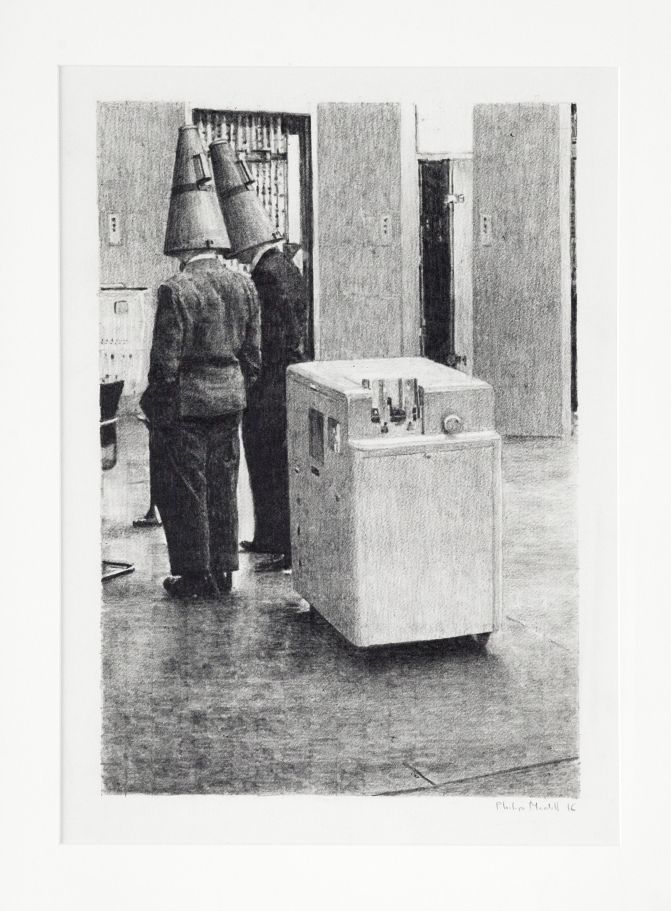 Radios. Telephones. TV. The Cinema. The Internet. Cellphones. Smart Phones. Facebook. Twitter.
The rise and rise of technology over the last two centuries and its affect on society is explored in the graphite drawings of Philip Madill, who is concerned with the unknown, long-term social impacts of such rapid technological change.
His drawings are based on illustrative photographs found in vintage magazines and newspapers from the 1950s and 60s.
During the process of adapting the original images on photoshop, Madill modifies or replaces the machines, to create a series of motifs that allude to the virtual world.
"I have always had an interest in historical photographs, images and vintage objects that was driven by my passion for history," says Madill.
"Originally, I used to collect old magazines from second hand shops, such as Popular mechanics and Popular Scientist from the 1950s and 60s. Now though I mostly source from the internet."
Madill, like most, is surrounded by a plethora of communication options in his day-to-day life, but strongly feels that having more ways to stay in touch hasn't made for a stronger society, or more robust human relationships.
"Technology, especially the internet, has enabled us to have greater access to the rest of the world and reduced our perception of distance," says Madill, who lives and works in Dunedin, but has clients around the country and the world.
"However, at the same time it has produced very fractured and detached experience of the world, where the copy or reproduction has replaced physical experiences. Hence, my use of the photographic image."
Painting was Madill's original area of interest, but after completing a Master of Fine Arts degree at Otago Polytechnic, his portfolio began to fill more and more with graphite drawings, and eventually they became his primary artistic focus.
"I shifted my focus to drawing as the medium is more immediate and still retains a trace of the artist's hand," says Madill, who also has a bachelor's degree in history.
"The materiality of drawing is important for me as it negates the mechanical and mass produced nature of the photograph. I guess the idea is to create an image that one might look at more closely than a photograph, which is disposable."