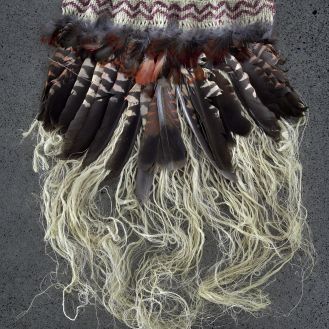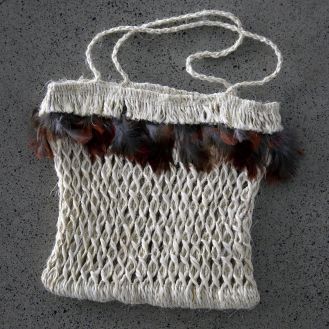 Mr Roto never expected to be famous, but he probably would have enjoyed it.
A native Kaka bird from the Orokonui ecosanctuary in Dunedin, Mr Rota had the good fortune to be fed by sculptor Moira Crossman, who was a volunteer and tour guide at the sanctuary during its early days.
Crossman, who also weaves and draws, fell in love with the cheeky Mr Roto, who was notorious for licking peoples skin and picking through their hair to indulge in the natural oils.
Kaka are one of New Zealand's most colourful and impressive native birds, beloved around the country for their playful personalities and brightly coloured feathers, which are sacred to Maori.
However they are classified as nationally endangered by the Department of Conservation, with their population estimated to be less than 5000 in the wild.
Crossman's Shanghai collection explores the imagery around the sacred Kaka bird, and their special place in New Zealanders hearts and minds.
From the initial sketches of Mr Roto, drawn while he was busy eating, Crossman created more developed drawings and used these to create her stone sculptures of Kaka.
To add vitality to the final images of the friendly Mr Roto, which are on display in Shanghai, Crossman conjured up her friend from memory, and their time together sharing breakfast.
Some of the feathers used in the weavings are also likely to have come from Mr Roto, Crossman said, who died a number of years ago after he was released into the wild "flying free".
"I have always been interested in birds, flight, and the stories of different birds, what they represent and the messages they bring us," says Crossman.
"I am influenced by the natural environment and seek to preserve and protect it before we lose it all. I plant native trees in my community, and recently become involved in trapping our local introduced pests."
Born in Auckland, Crossman now lives and works in Waitati, which is just over the hill from the Orokonui bird sanctuary.
Neighbours of the ecosanctuary say it is a privilege to live so close to the vibrant bird population, and for Crossman, the proximity has directly influenced her work.
"Living close to the sanctuary is a wonderful experience as over the years I have enjoyed the growth of the project as the trees grow and birds expand," she says.
"Kaka visit my kowhai trees, Ruru and Herons nest in neighbouring trees and I am woken daily by Tui and Korimako. I am truly privileged."
The sculptures in the collection use Argelite from Southland, and bluestone from Dunedin, and were fashioned with the express purpose of calling out to local birds and drawing them near to the sanctuary.