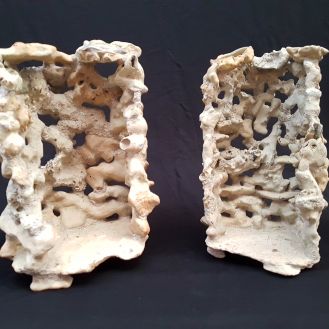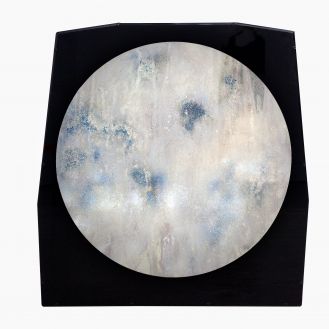 Long-time Port Chalmers resident Mary McFarlane has a very active antidote to artist's block - opening the door to her studio and "catapulting" herself into the outside world.
"When I'm developing new work and a room can't contain what it is I am trying to grasp, I catapult outside to be under the sky, walk up hills, along beaches, think and draw," says McFarlane.
"I want to address our threatened planet and attempt to bring an urbanised culture back to a lost awareness."
Best known for her work turning vintage mirrors into works of art, McFarlane uses etching, gold dust, silver and oily paints to transform the mirrors into dream-like creations; some reminiscent of the full moon at midnight, others exploring the ubiquitous hold of the waterfall on the New Zealand psyche.
McFarlane now works across a broad range of artistic disciplines, including sculpture, installation, textiles, text and drawing.
The range of work she has submitted for the Shanghai exhibition - a series of mirrors and concretions - explore themes of water, moonlight and McFarlane's own enduring, life-long fascination with the natural world.
The concretions, twisted, elegant yet somehow animal, were salvaged from local beaches. Organic shapes spat out by the sea, and rescued by coastal dwelling McFarlane, who has lived in the small community of Port Chalmers on the Otago Harbour for decades.
Beautiful even before McFarlane began to work with them, the seemingly living concretions were formed by compressed sand, which was then eroded by the wind, rain and tidal action.
With a bachelor's degree in art history and an art degree from the prestigious RMIT university in Melbourne, McFarlane's long and distinguished career has seen her commissioned to create numerous public works around New Zealand. She is also a supportive friend and ally to many young artists in the Dunedin community.
But working with found objects provides many challenges for this doyenne of the Dunedin art scene, not least of which is respecting the ingrained history of materials that come to her brimming with their own rich biography.
"My use of found objects is an ideological and aesthetic challenge," says McFarlane.
"Particularly the fact these objects present themselves to me pre-loaded with their own history...mirrors, decades-old, embodying lifetimes, are at once inherently dramatic and mystical. My work carries layers of signified meaning embedded in the history and forms of these materials selected."