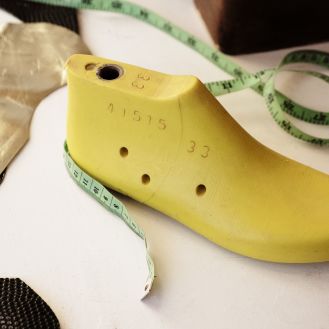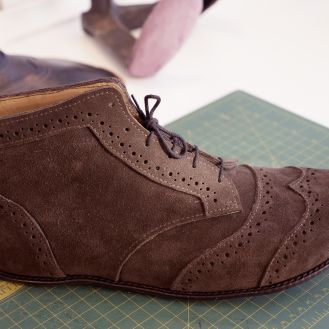 It can be disconcerting meeting Louise Clifton, the Dunedin shoemaker and teacher who believes there is a "wealth" of untapped shoemaking talent in New Zealand
Clifton - friendly, personable, petite - will smile and meet your eye. But eventually, invariably, her gaze will travel down your body - stopping at your feet, and staring at your shoes.
"Shoemaking had always been something that was the ultimate profession for me, an obsession really," Clifton told Radio New Zealand.
"I wanted a craft where I could use my hands, and a craft with a lot of history behind it. But also making something I could admire and use, that didn't sit on a shelf."
Shoes are a lifelong passion for Clifton, who saved up for months as a teeanger to buy her first pair of Doc Martens.
Launching her first business a few years ago, Lou - literally - took baby steps, by crafting tiny, classic-styled shoes for infants.
In 2015 Clifton opened Dunedin's first shoe school. The night classes and four-day workshops have become a hit with tourists and locals alike, and Clifton loves helping people create objects of beauty and practicality that are individually designed for their own, unique feet.
"I have really narrow feet so I am always searching for shoes for my narrow feet. And I get a lot satisfaction from helping students make shoes for their own individual feet."
Short on cash but rich on ambition, Clifton has spent years studying shoemaking with various tutors around the world, learning the craft through observation when a common language was in short supply, and also studying books, watching youtube videos and falling asleep dreaming of shoemaking.
Clifton's shoe school in Dunedin is a tranquil, productive space with whitewashed walls and hanging potted plants. Materials and tools are stacked high to the ceiling, and the creative buzz and energy is palpable, with dozens of students creating their dream shoes every week - each completely unique in style, colour, taste and size.
Many students say hand-crafting their first pair of shoes is a life altering event.
"There's a whole lot of people like me out there that enjoy the making-through process – that think with their hands," says Clifton.
"Ideas in creative industries are sometimes held in greater esteem than the intelligence involved in producing the actual object. I like to think that shoemaking combines both those aspects and results in a more sophisticated product and a greater sense of satisfaction for the maker."