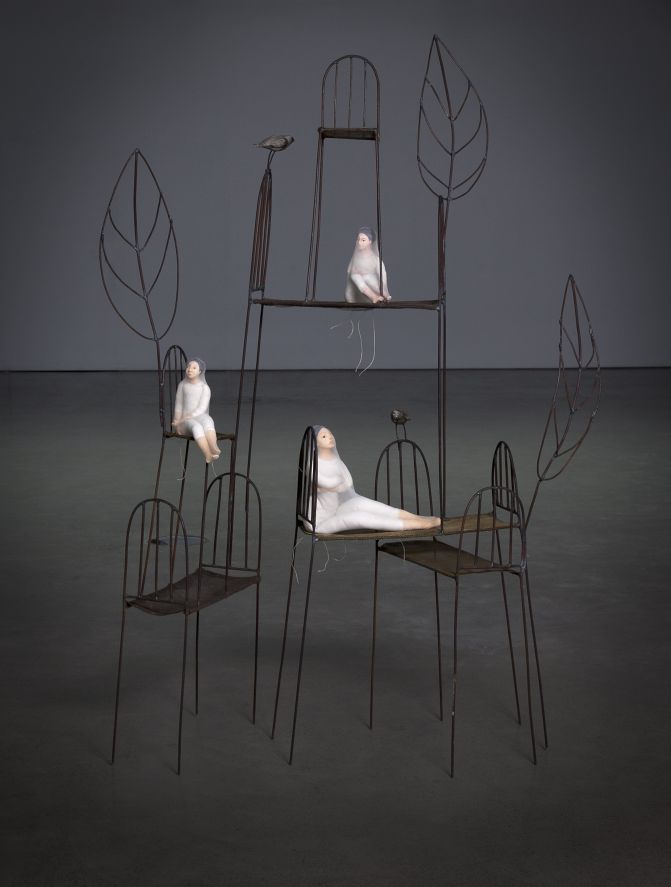 Sculptor Juliet Novena Sorrel is fascinated by the domestic space, and the seemingly contradictory experiences a home can offer of security and isolation.
Her three-dimensional sculptural work for Shanghai has been constructed from welded steel, brass mesh, ceramics and textiles, and includes representations of beds, chairs, leaves and figures.
The sculptures are constructed to be simultaneously flimsy and imposing. Large in scale, they nevertheless give the impression that a stiff breeze could knock them flat.
Sorrel calls them "fragile, towering formations".
"I wanted to emphasise a sense of scale with small figures and exaggerated domestic forms, where figures are made insignificant by their environment," she says.
" I am interested in the ways that we are shaped and influenced by our environment, whether it be domestic, urban or natural."
"This work is a sculpture combining the imagery of domestic life and that of the natural world. It is a drawing taken into the third dimension exploring the limits of the use of line and drawing concepts."
The use of contrasting materials in Sorrel's sculptures are used to investigate the push and pull experiences that homes can present.
Homes can become cocoons for their inhabitants by offering the predictability and comfort of the day-to-day; the same bed on which to lay your head, your favorite chair at the dining table - your cups, your plates, your things.
But this notion of security relies on the "insecurity of isolation that can separate us from the outside world", says Sorrel.
Shrouded by four walls, warmth and routines, choosing security always means giving something else up, and locking something else out.
"In our aloneness we are shrouded in a veil of subconscious thoughts which alter our perception of the world," says Sorrel.
Sorrel, who is also renowned for her drawings, has been the artistic director of the Dunedin mid-winter carnival for the last 16 years, a festival which celebrates the peak of winter in the deep south of New Zealand, when the streets are slick with black ice.
Sorrel has also tutored in ceramics and print at the Southland Institute of Technology, as well as teaching art to high school students.
Born in Central Otago,Sorrel is a graduate of the Dunedin School of Art Masters Programme.
As well as exhibiting her work around New Zealand, Sorrel frequently travels for inspiration and ideas. This year she has received a one-month artist's residency on Stewart Island.