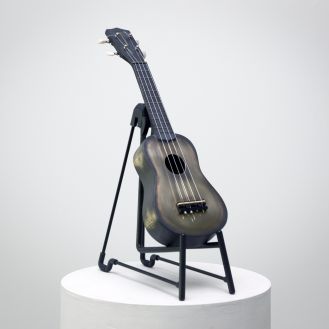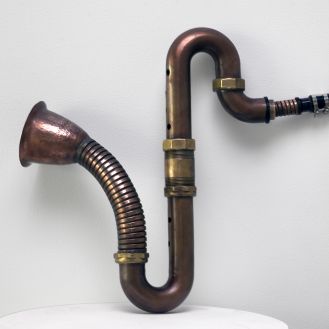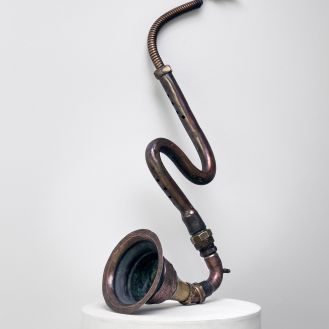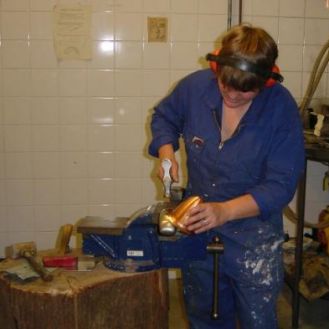 If you happen to spot multi-media artist Jane Venis scrabbling through a pile of junk, don't worry - she's working.
Venis spends countless hours picking through society's rubbish, searching for abandoned treasures to re-purpose into sculptures and installations.
Restoring abandoned musical instruments is the latest iteration in a long and eclectic career, the many diverse projects held together by one theme - giving junk back its mojo, and its worth.
"I describe my works as "crafted assemblage," says Venis.
"I want them to retain the essence of the materials that have been lovingly collected and reworked. My instruments give a new lease of life to materials many people regard as scrap metal and rubbish. My work also references the Japanese art of Chindogu "objects that have been freed from the chains of usefulness".
Polished and restored by Venis to once again be items of beauty and intrigue, it is extraordinary to gaze at the instruments in a gallery and be told they can be yanked from the wall, passed to a musician, and played. Their unusual kinky shapes and neglected past no match for Venis's dedication to saving their future.
Reminiscent of steampunk creations, Venis's work seem to capture - in their bends, twists and odd angles - the very spirit of jazz. Like a passionate saxophonist, they twist from the hips, leaning into whoever plays them and mimicking the musician's body and verve.
Venis, who lectures at the Otago Polytechnic School of Design, is a keen musician herself, and routinely performs with her creations, as well as singing.
A chatty, vibrant personality, Venis initially started foraging for artistic materials in the Golden Bay dumps, after giving up a job with IHC in Nelson and moving to the beach to become "a hippy."
"I am very interested in irony in my work...and the absurdity of objects," Venis told Radio New Zealand.
"There is this endless consumptions of things we don't need, always wanting more, always wanting the latest shiny thing."
After decades of "making things and playing music," Venis's partner suggested she attend art school at the age of 40 - the best career advice she has ever received.
Initially interested in painting, she slowly moved towards creating sculptures out of found and salvaged materials, and from there to multi-media installations.By that point Venis - known to most as 'Venus' - had came full-circle. Picking up her sculptures, and playing them back to life.