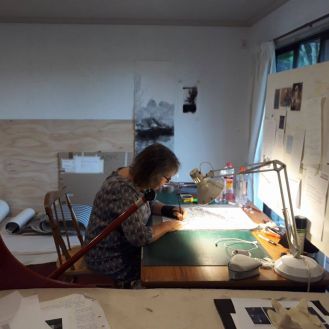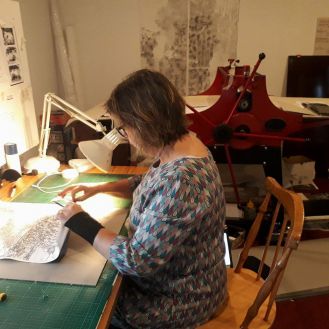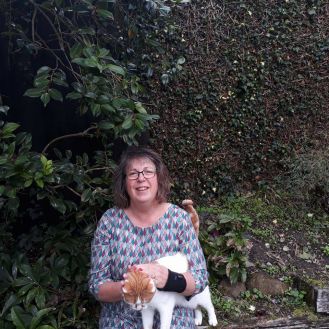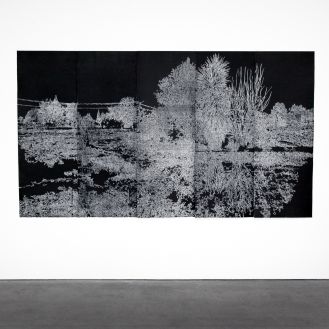 Inspired by the scroll landscape paintings created by the Chinese during the Song dynasty, Fiona Van Oyen created an artwork that viewers would have to physically walk to experience - passively looking will not reveal the full story.
At the beginning, the somewhat haunting view of shrubs and trees in I think this is part of our garden (black) was of a specific place and time, namely, a private garden in a once densely populated suburb of pre-earthquake Christchurch.
But as the work hung on Van Oyen's wall it gradually took on a like of its own, and soon came to represent any time and any place, with the inverted foreground suggesting a body of water, such as a lake or stream.
"The drawing technique I have used, which I think of in terms of threading a braille-like tracking through the landscape, has the potential to draw the viewer into the haptic miniature, thereby slowing the perception of lived time as it is experienced."
The project, made up of five panels, took the best of a year to complete.
"When viewed from a distance the overall scale of the work and the compositional techniques I have employed, encourage one's eyes to travel through the landscape," says Van Oyen.
"This was an aspect that was influenced by the scroll landscape paintings created during the Chinese Song Dynasty, which are known for their ability to carry the viewer through the landscape. In contrast, when standing close to the work, the viewer is required to physically walk the length of it to see the whole scene - literally walking the landscape. This close viewing of the work also shifts the viewer's attention from the expanse of the scene, to studying pockets of the small linear detailing that make up the work."
In a previous life Van Oyen worked as a medical illustrator. For the past 15 years she has taught art and printmaking to high school students and is about to graduate from the Dunedin School of Art with a Master's degree, 80 percent of which she has completed by distance-learning, allowing her to continue teaching on a part-time basis in Christchurch.At the moment, Van Oyen is working towards a solo exhibition at the Ashburton Art Gallery in 2018.