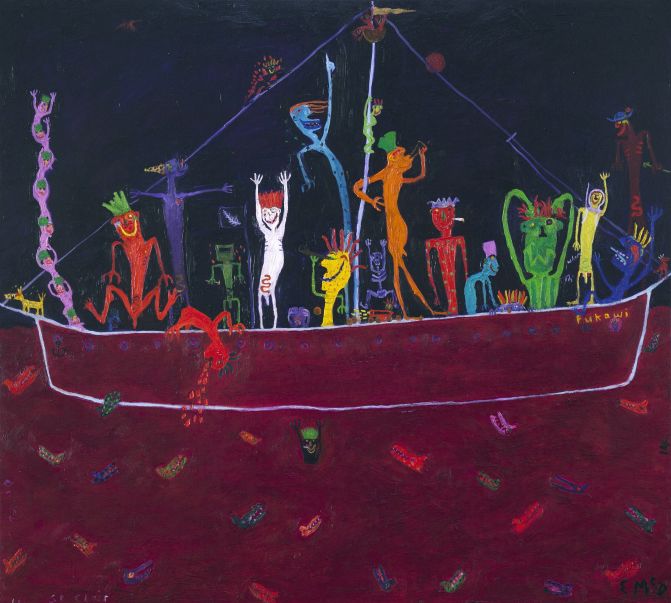 Reformed party-animal Ewan McDougall does his partying with paints these days.
Joyful paintings that seem to beckon viewers to leap into them for a good time.
In the early 1970s McDougall was deeply immersed in the Dunedin music-scene, playing drums for iconic rock bands, lecturing in politics part-time, working at the freezing works and partying hard every night.
The painting Drifting in St Clair 111 arcs back to that wild and memorable period of his life.
"It was a time of drugged up revelry, and I was living in a St Clair flat with surfing and musician friends," reminisces McDougall.
"The party animal lifestyle was amped-up and often very close to the edge. Hence the 'drifting' of the foundering boat load of guffawing yahoos in the painting. My work is often self-referential...but many people tell me they relate to the the themes of celebration, dissolution and recovery."
Born in Wellington McDougall grew up in the small south island town of Oamaru (also home to Janet Frame) and was taught to paint by North Otago regionalist painter Colin Wheeler, who allowed his student to drop French and Latin studies so he could spend more time on his art.
After traveling extensively overseas, McDougall eventually returned in New Zealand in the late 1980s to straighten his life out.
After a spell in hospital, where he was treated for recreational drug addiction, McDougall took up a paintbrush as a therapeutic measure and has never looked back.
Famous for not planning or plotting out his pictures, McDougall nevertheless has a rigorous artistic routine, and is in front of his canvases by eight am seven days a week.
His early training by Wheeler has given him the confidence to know, and then break, some of the rules he was taught.
"I really love colour, I don't mix colour, I slap it on, I whack the paint on," McDougall told Radio ZB.
"I paint the painting, and then the painting tells me what it is. The thing for me is to be spontaneous, rather than too intellectual or with too much planning."
A self-confessed workaholic, McDougall has staged over 70 solo- exhibitions, and sells his work around New Zealand as well as internationally, where his style has been described as "witty" and "outrageous".
"I think people have a love hate thing with my work," McDougall told Radio ZB.
"The worst thing that could happen to me would be someone yawning in front of one of my paintings...fortunately enough people love my work to allow me to keep affording paints."