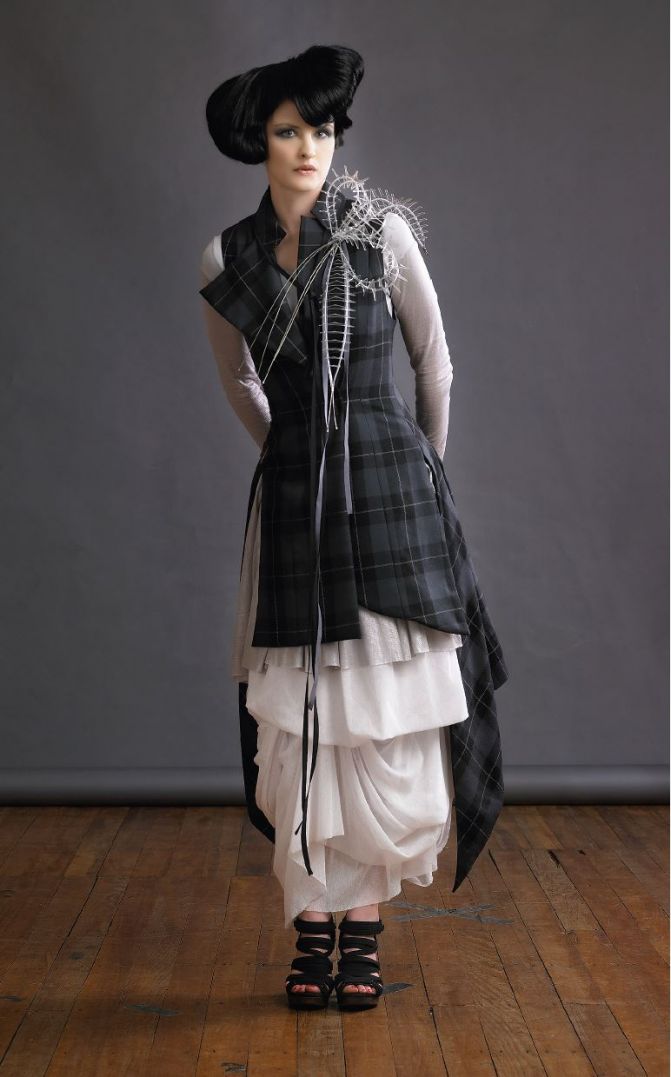 Not every aspiring fashion designer is lucky enough to have encouragement from a famous model, but Donna Tulloch did.
As a kid the South Island born designer idolised the 1960s fashion icon Twiggy, and when she was starting out she posted her a bundle of sketches, hopeful that her nascent talent would be spotted.
The young ingenue was rewarded for her boldness with a letter and signed photograph from the English supermodel, which she has treasured to this day.
"I loved her fashion," Tulloch told the New Zealand Fashion Museum.
"And I loved her look."
In 1995 Tulloch set out to re-make the once-frumpy cardigan and as a fashionable wardrobe staple, and Mild-Red was born.
Demand for Mild-Red's handmade, luxe knitwear in the chilly Dunedin climate soon forced Tulloch to expand her range to woven fabrics, which now account for 70 percent of her collections.
Drawing inspiration from art, architecture,sculpture, social and environmental issues, Tulloch has dabbled with print and colour in the past, but these days is most often drawn to darker, monochromatic hues.
Playing around with the many iterations and subtleties of black brings Tulloch great pleasure - and is business-savvy too, as black remains a beloved wardrobe staple for New Zealand women, particularly in the deep south of the country where Tulloch continues to work and live.
Having sold her clothes overseas for many years, Tulloch remains committed to manufacturing in New Zealand , and keeping Mild-Red a mid-sized, manageable affair. Tulloch has stated numerous times that she would rather "close down" than move offshore.
In the day-to-day dressing New Zealand women in beautiful clothes keeps Tulloch passionate about her business of some 20-years, and continuing to create garments that are timeless and can last a lifetime.
Her clothes for the Shanghai collection are sculptural creations that are designed to be mixed and worn with past and future collections, and also enjoyed as one off art installations.
Incorporating luxurious materials such as Italian lace, deer leather and classic tartan, the Shanghai pieces all give a subtle nod to Dunedin's rich tartan-noir, gothic history.
Mixing textures, fibre types and experimenting with form have become signatures of Mild-Red's clothing, with Tulloch's designs praised for their tough elegance, premium, quality materials and plethora of textural options.
But at the heart of Mild-Red is Tulloch's devotion to dressing women in clothes that flow with the natural lines of their body, and pieces that can be worn in multiple ways, multiple times.
Striving to make the art of dressing well a fun, creative endeavour, rather than a morning headache.