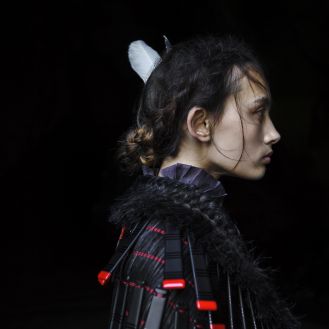 Te Rongo Kirkwood Nga Tuaitara o Taikehu – wahine toa 1 (2014) - Courtesy of Milford Galleries Dunedin Photographed by David Shields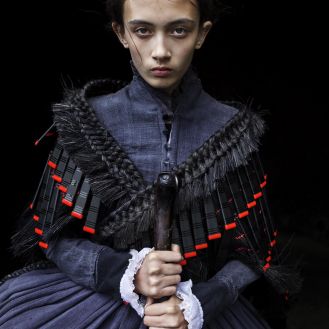 Te Rongo Kirkwood Nga Tuaitara o Taikehu – wahine toa 2 (2014) - Courtesy of Milford Galleries Dunedin Photographed by David Shields
A traveller and fashion photographer for 20 years, David Shields has worked with some of the world's most beautiful people, eyeing them up in his lens, trying to capture a new angle, a new pose, from faces who have pouted for the camera thousands of times.
For the last 15 years, Shields has been in constant pursuit of the world's "best image" - the picture to beat all his other pictures.
"The work has always been about catching a moment in time, I think I'll always have that dynamic," says Shields.
"I've always been fairly single-minded that [the image] needed to mean something, as these days it feels more and more like life has lost a bit of it's soul and character. You need to be happy that in that moment, on that day, you found something you both treasure, and enjoy to share with the world"
Shields work has been published in some of the world's most esteemed fashion magazines, including Vogue Homme International (France and Japan), French Vogue, Japanese and German GQ, Italian Marie Claire, and Russian Tatler.
The faces and personalities who have posed for him would make many quiver in awe, but for Shields, considered one of New Zealand's most successful fashion photographers, snapping beauty and ignoring fame has become his bread and butter, and many of his subjects have later become friends.
In recent years, Shields has begun to shift towards more art-driven, personal projects, bringing his fashion eye to exploring the dignity of New Zealand's indigenous people, the Maori, and the "admiration and acceptance" of Maori culture in his home country.
Other series have explored the "truthfulness" of nudity, and juxtaposed the exposed human body against the roiling, untamed sea.
Shields says embracing the "luck" and opportunities that have presented themselves throughout his distinguished career keep him motivated for each new assignment, and using his photography skills in an increasingly personal way is a great impetus to work hard, and explore new territory, even when he's not sure exactly where it will lead him.
"The best thing about approaching anything from a more artistic avenue, is that you may surprise yourself and find something that's unexpected," says Shields.
"It plays perfectly into my understanding of art being the vehicle you use to show what drives your individual expression, no matter what form it comes in."
"These days the desire for something personal, rather than mass produced will be valued as a truth you are willing to put your hand up and accept with pride."