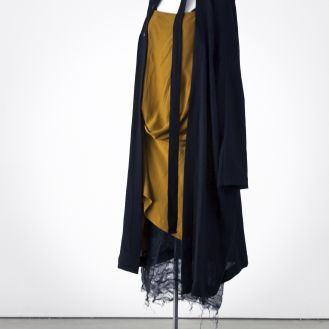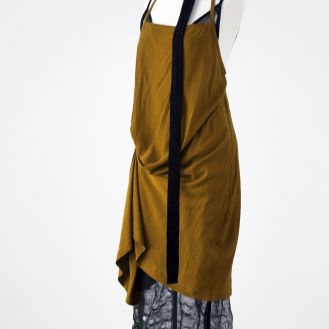 Ariane Bray isn't just excited about exhibiting her work in Shanghai - she's ecstatic.
The youthful fashion designer, who recently graduated with a Bachelor of Design from Otago Polytechnic, has visited the city on multiple occasions, and hook, line and sinker "fallen in love".
"Shanghai has an ability to maintain such a rich cultural identity, while keeping up with the fast pace of a modern and technologically advanced city," says Bray.
"I have a deep connection with the city."
Bray's clothing - luxurious, regal yet wearable - goes far beyond its brief to keep its wearers snug and fashionable. Bray is interested in using her clothing as a "motif" to help communicate a story. Her provocative, challenging designs focus on drapery and textile manipulation, which is balanced by soft-tailoring and unconventional silhouettes.
"When I was 14 my Dad bought me an old Husqvarna sewing machine," remembers Bray.
"I began frantically sewing, sometimes whipping a garment up with scrap fabrics before I left the house in the morning. The more I develop as a designer, the more attracted I become to comfort and wearability in my designs...it is crucial to consider the wearer and their lifestyle when designing. "
Using a colour palette rich in autumnal hues - think mustard, maroon and navy - Bray's work walks a tightrope between street-tough and ballroom-femininity.
Exquisite swaths of cream lace are teamed with polished Doc Martens, and sexy, exposed shoulders balanced by long asymmetrical hemlines and leather neck halters.
Environmental sustainability and ethics are always at the forefront of Bray's mind when she's designing a piece, and for two consecutive years she has won the Otago Polytechnic's Education Foundation Grant for design ethos and sustainable business model.
Moving forward, Bray plans to keep these values at the core of her promising business, as she continues to help people express their stories and personalities with fabric, cut and colour.
"I have great admiration for Stella McCartney's environmental and ethical focus - and the labels ability to integrate these values without compromising on aesthetic," says Bray.
Yohji Yamamoto, Ann Demuelemeester and the "deconstructive philosophy" of Maison Martin Margiela are also firm favourites.
Shanghai Links:
2014 - Completed a summer school program at Shanghai University of International Business and Economics
2015 - Was selected as a fashion graduate to show her work at the Shanghai Fashion Show
www.facebook.com/arianebrayclothing/